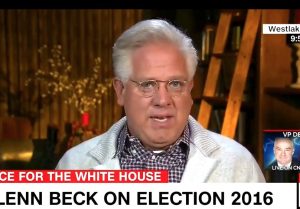 Former Fox News and CNN host and current head of TheBlaze media empire Glenn Beck pulled no punches in his assessment of Republican presidential nominee Donald Trump. In an appearance on Thursday night's CNN Tonight with Don Lemon, Beck swam against this week's media current by saying he thinks Trump's debate performance may, indeed, have connected with voters he needs, while Hillary Clinton did not, but Beck also warned that Trump is a "danger to the republic."
Beck tried to see Monday night's debate through the eyes of "a millennial that understands socialism," as well as "a hard working guy who has been out trying to earn a living," and concluded that Trump connected, while Clinton did not:
BECK: You know, it's so funny because I was watching the debate on CNN and everybody was saying, I can't believe that — I mean, what a debacle that was and they have the exact opposite opinion. So, I don't know.

I tried to watch it as a millennial that understands socialism, and is kind of a Bernie person and disconnected from Hillary, and I don't see the connection with — I don't see anybody — if I was watching, I don't see them going, do you know what, I have to give her a second look. However, they certainly are not looking at Donald Trump.

When you look at Donald Trump, I also tried to watch it as you know, a guy who is just a — you know, a hard working guy who has been out trying to earn a living, jobs, tough, he sees his country burning down, and is like all these politicians. I've not heard anybody say — and I think this is a Roger Ailes effect, you'll notice Donald Trump never talked about Democrats or Republicans. All he said was politicians.

And while I disagree with almost everything he said, I could say all that he said, he — he was very careful to never bash the Democrats or the Republicans. He bashed them both. He's making a news for both parties by saying, you know, you politicians are all alike — taking himself out of that, taking himself out of a guy who knows how to manipulate the media and say, look how bad the media is.

He's saying, look, how bad the politicians. He's positioning himself if people aren't careful of rising above all of it and squashing both of it. If — if I'm a guy on the bar stool and I've been worried about my job, he might have connected with me.

…BECK: don't get me wrong, Hillary Clinton I think is absolutely thoroughly corrupt, but in another way, so is this guy. And I don't know which one is worse. I really don't.

I think Donald Trump is so self-centered, so vindictive, doesn't let things go, and quite honestly, he has said himself, he doesn't read. He is so under-educated on the issues. He's a danger to the republic.

I watch this trying to think of a millennial, trying to think of a guy who was about to lose his job, and trying to watch it as somebody who was a prime minister in another country, and I have to tell you, if I were anywhere else in the world, I would be terrified of what the United States might turn into.
During the Republican primaries, Glenn Beck supported and stumped for Senator Ted Cruz (R-TX), who recently relented and endorsed Trump.
Have a tip we should know? tips@mediaite.com