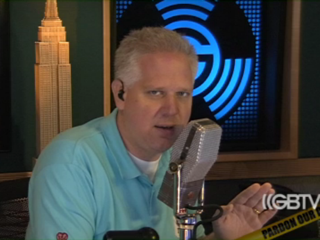 Glenn Beck took to the airwaves today with a fairly large set of grievances: the President's response to the S&P downgrade; the violence of the Arab Spring and, by proxy, the London riots; S&P's abysmal credit rating system itself. Discussing the riots, all these topics seem to have blended together for him– mocking the President's support of the Arab spring by asking him to support the UK riots and calling the downgrade symptomatic of the "economic Archduke Ferdinand moment" that was the earthquake in Japan.
"You encouraged what happened in Wisconsin, you encouraged the Arab Spring," Beck told the President, "Why aren't you talking about the great energy-saving programs that are going on now at, like, furniture stores in London?" He was, of course, joking, but took that train of thought to other disastrous occurrences that, he argued, no one at the time had considered to be economically significant. Take, for instance, the earthquake and tsunami earlier this year in Japan. "It's almost as if Japan was the invisible Archduke Ferdinand moment," Beck argued. "Economic– the economic Archduke Ferdinand moment" before the American markets were hit.
Speaking of the American markets, Beck went after President Obama, as an aside, on his statement that S&P was wrong in calling America anything but a AAA country. "Mr. President, please don't tell me about the credibility of S&P," Beck chided. He noted that everyone who had questioned S&P and argued their credit ratings were wrong all the time were "exactly right," but not because they had undervalued the United States. In fact, the problem was quite the contrary– they seem to have overvalued everything else:
You're exactly right, they do get it wrong all the time! But not because they downgrade higgledy piggledy [sic?]– because they keep people who should be at junk bond status like Freddie and Fanny, they keep them at a AAA rating. When they're wrong, it's because they're saying 'these guys are great' when they suck. If they say 'we're going to downgrade the US to a AA,' we should be at junk bond status.
"Yeah, they're usually too optimistic," a co-host offered off-camera. Beck then returned to the topic at hand to warn his audience of the impending violence: "they are burning London to the ground," Beck warned, "and it is coming here."
The segment via GBTV below:

Have a tip we should know? [email protected]