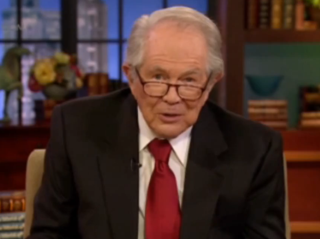 Stop the presses! It appears that at least one person on earth knows who the next president will be, and on a day in which the Iowa caucuses are the biggest news of the day, it just happens to be a Republican candidate who won Iowa. Pat Robertson took to the airwaves this week with the titillating news that God had told him about the next President, "but I'm not supposed to talk about that." At the very least, Robertson assures us that a "solar radiation blast" is not in America's immediate future, and that the President's "radical views" will be the cause of the nation being "torn apart by internal stress."
RELATED: Pat Robertson Slams SNL: Tebow Skit Fueled By 'Anti-Christian Bigotry'
Robertson, speaking to a co-host, told her that he "spent the better part of a week in prayer and saying 'God, show me something.'" Apparently, this method of prayer worked, because "He showed me about the next President, but I'm not supposed to talk about that, so I'll leave you in the dark." Too bad, because that really could've shaken up the Iowa caucuses and provided the Huntsman surge we all know is coming.
Anyway, Robertson did share some secrets: America "will be torn apart by internal stress" because "your President holds a radical view of the direction of your country, which is at odds with the majority." The solution, according to Robertson, is prayer. God also told Robertson that there would be "a time of maximum stress and prayer," so Robertson provided God with a list of potential catastrophes, and God was kind enough to answer:
Is it a cosmic or solar radiation blast? No.
is it the mayan galaxy…? No.
is it an Iranian or North Korean nuclear attack? No.
Turns out it is an "economic collapse," and God was clear to tell Robertson that "this is not My judgment," but completely the fault of human beings. Robertson did not say whether, however, God was willing to help clean up the mess.
The 700 Club clip below:

[h/t Right Wing Watch]
Have a tip we should know? tips@mediaite.com