GOP Rep's Unverified Ebola Claim Shows How Quickly Fox Converts Allegations to Facts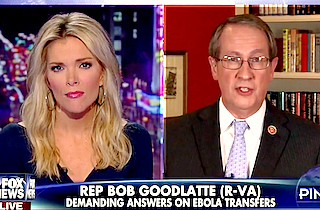 The next time a lawmaker claims "increasing evidence" for something on Fox, perhaps the anchors should ask to see some.
Representative Bob Goodlatte (R-VA) started some chatter Monday evening when he told The Kelly File that there was "increasing evidence" that the Obama administration is planning to bring foreign Ebola patients to the United States for treatment. "Members of the media, my office have received confidential communications saying that those plans are being developed," Goodlatte said.
That would certainly be a development, especially in the face of continued calls for an overall travel ban for anybody from west Africa. Sure enough, Goodlatte swiftly condemned the administration for the move, telling Fox, "This is simply a matter of common sense that if you are concerned about this problem spreading …we certainly shouldn't be bringing in the patients."
But as of this writing there's no evidence beyond Goodlatte's claim that the administration is actually considering such a thing. Goodlatte provided no indication as to what those plans would entail, how likely or concrete they are, or whether they're anything more than a worst-case-scenario contingency plan. Even the Fox website's later write-up sounded incredulous, noting "the details are sketchy, if such a plan even exists."
A phone call to the Rep. Goodlatte's office directed Mediaite to the House Judiciary Committee; a Committee aide said a source had contacted the committee, but provided no further details as to the nature of the plans. (The aide added that a letter to the administration on the subject had thus far gone unanswered.)
But it took less than a minute for Goodlatte's allegation to morph from an unverified potential development to a confirmed real-time event. In response to Goodlatte's renewed call for the Obama administration to suspend American visas from west Africa, Megyn Kelly replied, "Seems like they're going in another direction, if we're actually bringing Ebola patients here." (Note the addition of "actually.") By this morning Fox & Friends host Brian Kilmeade was objecting that the policy "makes the GITMO thing seem reasonable!"
Goodlatte's allegation follows one made by Representative Duncan Hunter (R-CA), who told Greta van Susteren earlier this month that a border patrol source had informed him multiple ISIS members had been captured on the U.S.-Mexico border. The claim quickly imploded, with Hunter's source backing down and the Department of Homeland Security calling it "categorically false." Hunter's claim even spawned discussion on the Sunday shows over whether lawmakers should exercise more caution before airing unverified claims on air. (Alarmingly, the answer was not a hard yes.)
Yet Hunter's claim lingers on the conspiracy theory discount shelf, fodder for anyone who wants to exploit fear over the non-existent ISIS-border vortex. Likewise, Goodlatte introduced an unverified and (at this point) weakly-sourced claim into a public health situation in which the veracity of information is paramount. At this point even if his claim were compellingly refuted his soundbite is out there for anybody desiring confirmation that the administration is acting from ulterior motives. All they'd have to do is claim "increasing evidence" — confident that, like Representative Goodlatte, they won't be asked to present any.
Watch Goodlatte's comments below, via Fox News:
[Image via screengrab]
——
>> Follow Evan McMurry (@evanmcmurry) on Twitter
Have a tip we should know? tips@mediaite.com