GOP'er Louie Gohmert Trashes Eric Holder For Ignoring Islamic Radicals While Targeting Christians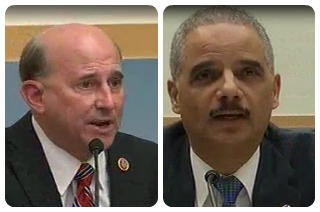 Rep. Louie Gohmert (R-TX) tore into Attorney General Eric Holder during Wednesday's congressional hearings in relation to what the Department of Justice knew about Boston Marathon bomber, Tamerlan Tsarnaev. Gohmert insisted that the Justice Department has refused to investigate Islamic radicals in the United States while targeting Christian groups for undue scrutiny.

Gohmert began by asking Holder how deeply federal investigators looked into information provided by the Russian government regarding Tsaranev's trips to Chechnya and the radicalization he underwent there. Gohmert asked why the FBI "blew the opportunity to save people's lives by accepting the Russian information."
Gohmert insisted that Tsarnaev attended a mosque in Boston that was founded by a person who is currently imprisoned for his involvement with terrorism.
"There were problems," Holder began, "that were not of the FBI's making with regards to.."
RELATED: Hearing Explodes As Darrel Issa, Eric Holder, Sheila Jackson-Lee Battle Over Justice Dept. Burying A Case
"They should not have had to give anything else whatsoever," Gohmert interrupted. "But, because of political correctness, there was not a thorough enough investigation of Tamerlan to determine this kid had been radicalized."
"On the one hand, we go after Christian groups like Billy Graham's group – we go after Franklin Graham's group – but then we're hands-off when it comes to possibly offending someone who has been radicalized as a terrorist," Gohmert insisted.
Holder began to challenge Gohmert's assertions when he was interrupted again. The Texas congressman insisted that Holder had called his knowledge of the facts into question.
"Unless somebody has done something inappropriate, you don't have access to the FBI files," Holder told Gohmert. "I know what the FBI did. You cannot know what I know."
Gohmert insisted that Holder had "challenged my character." He was told that his characterization of Holder's objection was not an appropriate reason to demand personal privilege to seek redress. Holder insisted that Gohmert could not know what he was talking about unless he was provide, "inappropriately," FBI documents to which he was not entitled.
Watch the clip below via C-SPAN 3:
> >Follow Noah Rothman (@NoahCRothman) on Twitter
Have a tip we should know? tips@mediaite.com