Greenwald Bashes Obama's NSA Speech: 'Trivial' Reforms and More 'Fear-Mongering'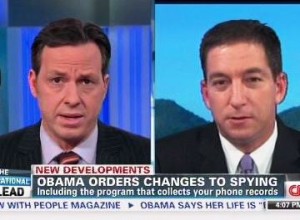 Journalist Glenn Greenwald joined CNN's Jake Tapper on Friday to react to President Obama's big speech announcing NSA reforms, and whereas Greenwald previewed the speech as a "PR gesture," his post-speech take was… well, largely the same. He said Obama's call to change the way phone metadata is collected is just a "trivial" piece of reform that doesn't address any of the real problems people have with NSA surveillance.
During his speech, Obama argued that collecting phone metadata is important because before 9/11, one of the hijackers made a call that the NSA could not trace completely. Greenwald said on CNN there is "zero evidence" that the metadata program is effective, let alone whether it would have prevented 9/11 or not.
He made it clear that "nobody in the debate at all is opposed to targeted surveillance" of individuals specifically under suspicion, and used this argument to explain why the ability to bring people to justice at any cost isn't the best argument for increased government intrusion.
"We could eliminate all sorts of crimes, Jake, like rape and murder and kidnapping and pedophilia, if we just do away with the requirement that police officers first get a search warrant before entering our house or if we let the government put video cameras in all of our homes and offices and watch what we're doing all the time. We make the choice that we'd rather not do that, because we'd rather live with a greater risk of crime than let the government invade our privacy."
Greenwald also said Obama was engaging in "fear-mongering" in his speech, noting that this is the same man who used to "routinely mock" Bush administration officials who said basically the same thing about keeping the country safe.
Watch the video below, via CNN:
[photo via screengrab]
— —
Follow Josh Feldman on Twitter: @feldmaniac
Have a tip we should know? tips@mediaite.com
Josh Feldman - Senior Editor