Greenwald Mocks 'Robust Oversight' Of NSA Spying: Congress 'Being Forced To Learn About NSA In Our Reporting'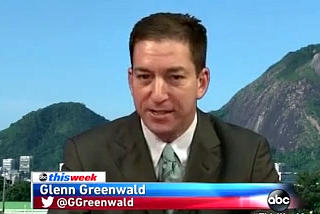 Glenn Greenwald appeared on This Week With George Stephanopoulos to decry what he describes as the difficulty legislators have been experiencing in gaining details about NSA surveillance programs, telling guest host Martha Raddatz that far from being able to apply strict congressional oversight to the programs, some lawmakers have been getting their information about them from his articles.
"Members from both political parties came to us and showed us all kinds of letters and emails they've been exchanging, in which they're trying to get the most basic information about what the NSA is doing, in spying on American citizens, and what the FISA court has been doing in terms fo declaring some of this illegal, some of it legal," Greenwald said. "They've being blocked from getting it."
"We keep hearing that there's all kinds of robust oversight by Congress, and need not worry," Greenwald continued, but alleged that the lawmakers who have contacted him "have said that they're being forced to learn about what the NSA is doing from what they learn about in our reporting."
Greenwald also referenced a secret FISA court opinion that called the expansive reach of the NSA's data mining programs unconstitutional and illegal. The Guardian journalist said that the FISA court has no objection to releasing the decision, but that the Obama administration is keeping it classified.
"That's extraordinary, to have a court opinion ruling that our government violated the constitution and the law, and not only can't we read it, but neither can our representatives in Congress," Greenwald said.
Watch the full interview here, via ABC News:
—
>> Follow Evan McMurry (@evanmcmurry) on Twitter
Have a tip we should know? tips@mediaite.com