Greta Van Susteren On Fox News: "Willing To Spend Money On Old-Fashioned Journalism"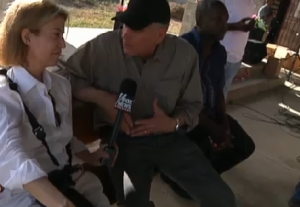 On the Record host Greta Van Susteren devotes her entire show tonight to a special report on her trip to Haiti with Sarah Palin and Rev. Franklin Graham.
Van Susteren didn't go in heavy with field producers, camera crews and support staff–just herself and OTR producer Justin Wells, both of whom shot the entire special–some parts of which have been previously aired, but another 40 minutes of never-seen-before footage will be part of tonight's show. As Van Susteren tells Mediaite, it's a chance to travel the world to cover stories she believes in, even if it means doing a lot of the work herself:

The best thing about being at Fox is that they are willing to spend money so that I can do old fashion journalism. They have allowed me to go all over the world and thus bring the viewers to the story. In the Christmas spirit I would urge everyone to contribute to one of the many groups helping people in Haiti.
So far, only eight minutes out of several hours worth of video shot by Van Susteren and Wells have been seen. Wells says the tradeoff for shooting the material themselves was having amazing access to people who might have been put off by a heavy airlift of news personnel:
Viewers will notice the video in our special is raw, but the access we have by being a small 2 person team on the ground makes a difference. You feel like you are along for the ride. We wouldn't have been able to fit multiple cameras and audio teams in the small helicopters, armored cars or secure areas where we filmed. Greta and I were able to bring people to a story without dozens of staffers that often travel along for stories covered by high profile anchors and hosts on most other national broadcast and cable news networks. It was nearly 100 degrees in Haiti but it was important to us to bring viewers to this story. We kept it simple and as a result the viewers benefited, but let's just hope they don't get dizzy due to our non-professional shooting.
Viewers will also get a chance to see Van Susteren's talents as a still photographer–one of her personal hobbies–in a montage at the end of the special. As Wells put it, "Greta is a gadget nut– if a new camera or laptop comes out with some incredible technical innovation- Greta is among the first to know about it and our knowledge combined helps us as a team to be on top of anything that helps us gather news more effectively."
Have a tip we should know? tips@mediaite.com