Guest Column: Gun Safety Activist Mom Shannon Watts on Dana Loesch and The View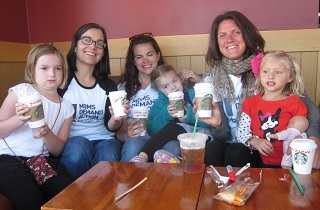 On Monday afternoon's The View, conservative activist and media personality Dana Loesch will appear as guest co-host. In advance of that appearance, Shannon Watts, founder of Moms Demand Action for Gun Sense in America, sparked a social media storm by expressing her views on Loesch's activism to the hosts and producers of The View, prompting a blistering pushback from Loesch and her Twitter followers. In a special guest column for Mediaite, Shannon Watts explains what she'd like The View's hosts to know.
I'm a mom of five in Indianapolis who founded Moms Demand Action for Gun Sense in America. And I support the Second Amendment. In fact, many of our mom members are gun owners.
But I came to believe — after the mass shooting at Sandy Hook Elementary — that America has a serious gun violence problem due to easy access to guns. With rights come responsibilities, but thanks to the American gun lobby, our state and federal gun laws are far too lax. I also believe we need more research on the impact of gun violence in America — on our children, our families, our communities. But the gun lobby has also effectively shut down much of the government's ability to work in that area.
So when I found out this weekend that The View, a television talk show aimed at women and moms, was having Dana Loesch on as a host on Monday, I was disappointed. Ms. Loesch has a history of calling for more and easier access to guns, and erroneously claims that guns make women and children safer. In addition, after the Sandy Hook Elementary mass shooting, Ms. Loesch worked with Magpul Dynamics to fight for the recall of Colorado state senators who voted for background checks. Magpul is the company that manufactured the 30-round ammunition magazines used in the Newtown massacre.
The View certainly has every right to choose Ms. Loesch as a host, but American moms have the right to ask Barbara Walters and the other regular co-hosts to challenge Ms. Loesch on her claims and relationship to the gun lobby.
When we talk about the benefits of guns, we also have to look at data that reveal the dangers. According to the American Journal of Public Health in 2003, in domestic violence situations, the risk of homicide for women increases eightfold when an abuser has access to firearms. A 2003 study by the University of Pennsylvania found that women living with a gun in the home were 2.7 times more likely to be murdered than women with no gun at home.
And nearly 800 children under 14 were killed in gun accidents from 1999 to 2010, according to the Centers for Disease Control and Prevention. Nearly one in five injury-related deaths in children and adolescents involve firearms. And guns cause twice as many deaths in young people as cancer, five times as many as heart disease, and 15 times as many as infections, according to the American Academy of Pediatrics. Because there is so little funding for gun-related research, these numbers are likely much higher than reported.
These problems can be addressed and bettered — and it can be done without infringing on the Second Amendment — through common-sense solutions like stronger safe storage policies and background checks on private gun sales to keep guns out of the hands of criminals.
There are many prominent, responsible gun owners in America that The View could have chosen to host their program. Unfortunately, they chose a pro-gun activist who has a history of promoting gun lobby propaganda. But given the gun violence epidemic in America, we can't afford to continue a polarized discussion that demonizes gun owners OR the people who support gun reform.
The reality is that, with the exception of extremists like Ms. Loesch, a majority of Americans support responsible gun reforms. We need more Americans to use their voices and votes to stand up to people who stand in the way of reform. We must all — including America's 80 million moms — demand that Congress and state legislatures act to protect their constituents from the ravages of gun violence.
But in the absence of reason, the vocal minority — including Ms. Loesch and gun lobbyists — will continue to drive our nation's gun policy, endangering our children and families.
[photo courtesy of Moms Demand Action for Gun Sense in America]
Have a tip we should know? tips@mediaite.com