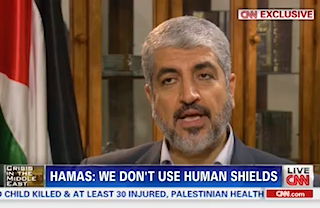 In an exclusive interview with CNN's Nic Robertson this week, Hamas political leader Khaled Meshaal defended the Palestinian organization's rocket attacks on Israel and said it is "unfortunate" that President Barack Obama has "adopted the Israeli narrative" in the conflict.
"We kill soldiers, combatants, while they kill civilians," Meshaal said of the criticism Hamas has received for firing rockets from its own civilian neighborhoods.
"It is unfortunate that the U.S. administration and President Obama have adopted the Israeli narrative, which is a lie," he said.
"Hamas sacrifices itself for its people and does not use its people as human shield to protect its soldiers," he continued. "These are lies, and Hamas does not seek international sympathy through its own victims."
Asked what Hamas is willing to do to reach a ceasefire agreement with Israel, Meshaal said, "We're ready for a cease fire, we don't want war. We want the war to end today, we did not attack anyone. It was Netanyahu who transferred the crises that took place in the West Bank on June 12th to Gaza. He is responsible for this. We are ready to stop this war, and we want ceasefire."
But that does not mean Hamas is willing to unilaterally give up its weapons systems as Israel has demanded. "Why are there demands only on the Palestinian people to get rid of their modest and simple weapons, but no similar demands on Israel — the occupying state?" Meshaal asked. "We are ready to discuss the removal of weapons."
Watch video below, via CNN:
[Photo via screengrab]
— —
>> Follow Matt Wilstein (@TheMattWilstein) on Twitter
Have a tip we should know? tips@mediaite.com