Hannity Talks To 7th Grader Whose Teacher Told Her The American Flag Was 'Offensive'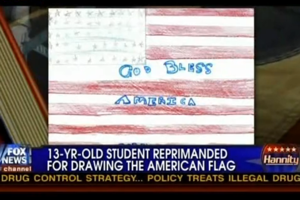 Sean Hannity has had his work cut out for him in the education world lately. In the wake of the Texas textbook debate and the more recent controversy surrounding students wearing American flags to school on Cinco de Mayo, Hannity has found another scandal with the flag in schools: a 7th grader who was reprimanded for drawing an American flag in art class.
The 7th grader, Taryn Hathaway, claims that her teacher called her drawing of an American flag with the words "God Bless America" on them "offensive," while praising another student for a drawing of Barack Obama. The project only required students to use the technique of pointilism, without specifying what subject matter should be displayed. Hathaway chose the American flag and was reprimanded for it.
There is something outrageous about an American child being scolded for drawing a flag, and the principal of the school apologized accordingly. But the event is now, beyond the little meaning it had on its own, just one stroke on the larger canvas of the progressive takeover of education, as Hannity and others of like minds would like to portray it. There is an underlying conservative narrative of elementary school indoctrination by Obama associates that has fed off of things like last year's "Mmm, mmm, mmm Barack Hussein Obama" video of Kindergartners praising the President and the environmentalist film "The Story of Stuff," a Glenn Beck favorite. It continued with the fight to save textbooks from liberal propaganda in Texas, and now has a new hero in Taryn Hathaway. And if Fox News' ratings are any indication, there's a healthy audience for this sort of report.
The interview with Hathaway and her mother below:

Have a tip we should know? tips@mediaite.com