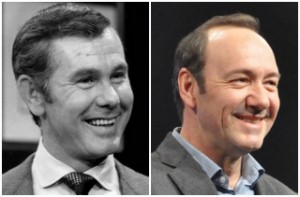 NBC announced Thursday that it will be producing a new mini-series based on the life of Johnny Carson, who hosted the Tonight Show for three decades before handing the show over to Jay Leno in 1992. There are no reports of a casting decision yet from NBC, but there's really only one choice: Kevin Spacey.
Spacey has unwittingly used late night talk show appearances over the last few years to audition for the role, showing off his uncanny impression on both Late Night with Jimmy Fallon in 2011 and the Late Show with David Letterman this past year.
On Jimmy Fallon's show, Spacey got behind the desk and riffed with his "guest," asking him how his first couple of years on Late Night were going. Of course, this was long before Fallon got the news that he would be ascending the Carson's throne on the Tonight Show this coming February.
Watch video below, via NBC:
Spacey got a chance to show off his Carson-in-monologue mode with David Letterman this past February, delivering a current story in the classic style. The actor set up a joke about the petition to deport Piers Morgan from the United States, ending with the punchline: "The Executives at CNN aren't that concerned, because they say they can just smuggle him back into the United States under Wolf Blitzer's beard."
Watch video below, via CBS:
Depending on how much time the mini-series will cover, Spacey could be right in the sweet spot age-wise at a fairly spry-looking 54. Carson was just 37 when he took over the Tonight Show and 67 when he retired. And with House of Cards, Spacey has proven that he's willing to star in television projects with limited commitments.
I'm sure NBC is considering other options, but really, I think they just stop right now and hand this thing to Spacey.
[photo via Wikimedia Commons]
— —
>> Follow Matt Wilstein (@TheMattWilstein) on Twitter
Have a tip we should know? tips@mediaite.com