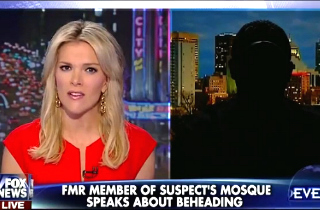 Many people noticed Thursday afternoon that Fox News had deleted online videos of an interview from the previous night featuring Megyn Kelly interviewing a cloaked, anonymous man who claimed to have attended the same mosque as the Oklahoma beheading suspect.
The man, named as "Noor," blacked out and speaking without a vocal disguise, claimed the mosque taught its attendees that non-Muslims must either convert or be killed. The Oklahoma beheading involved a man murdering a former co-worker, allegedly after he had been trying to convert several people in the food processing plant.
The video had disappeared from both the Fox News website and the Fox News Insider video page. Both bringing up an error page when readers attempted access. CNN's Brian Stelter noticed the peculiar move after conservative blog The Right Scoop tweeted about it, wondering whether it was because Fox was duped.
But earlier this afternoon, the video had returned to the Fox News Insider page. And it's back on the Fox site too.
The Kelly File's executive producer Tom Lowell explained the mystery in a statement:
"'Noor' knowingly agreed to appear on The Kelly File in silhouette and was given the option to disguise his voice, which he chose not to do. Following the interview, 'Noor' expressed apprehension about his voice not being disguised and in response, a producer removed the video out of concern for the guest's personal safety. This was an error in judgment. Once management was made aware of the situation, the video was put back up in its original form."
Watch the segment below, via Fox:
— —
>> Follow Andrew Kirell (@AndrewKirell) on Twitter
Have a tip we should know? tips@mediaite.com