Herman Cain Demonstrates The 'Non-Sexual Gesture' That Got Him In Trouble
Herman Cain Demonstrates The 'Non-Sexual Gesture' That Got Him In Trouble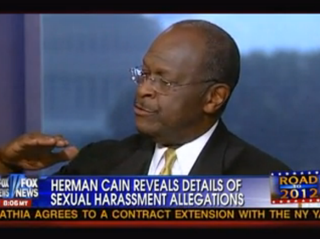 When the Politico report initially came out last night, presidential candidate Herman Cain was said to have been embroiled in a sexual harassment scandal by virtue of a "non-sexual gesture" that made one of his employees uncomfortable. While he and his campaign had been mum for most of the day, Cain told Greta Van Susteren the details of the allegations to the best of his recollection tonight, explaining that what he had done was stand next to the woman, put his hand on his chin, and note, "you're the same height as my wife."
Repeating, as he has all day, that "I have never sexually harassed anyone in my life," Cain told Van Susteren that he did not remember the name of one of the accusers, but that she worked in the Washington office of the National Restaurant Association in the mid-1990s, and that he remembered her formal allegation. "She was in my office one day, and I made a gesture," he explained. "I was standing close to her," he noted, and put his hand up to his chin, claiming he said "you're the same height as my wife," and "that was put in there as something that made her uncomfortable as part of the sexual harassment charge."
RELATED: Herman Cain's Campaign Owes Politico An Apology For Attacking 'Thinly-Sourced Smear'
Asked if the accuser had any witnesses (Van Susteren noting that there are very few sexual harassment cases with witnesses because of the nature of the action), Cain argued that the event had occurred "in my office, door open, plain view… but she couldn't find anybody to corroborate the story." He added that she had been fired from the NRA because "her performance was not up to par," but he did not participate firing her, a job he left for people working under him. She received "what would've been a termination settlement," he further explained, estimating this to be "three months' salary," but not entirely sure, and added that the Board of the NRA had no role in any of this.
RELATED: NBC News Confirms One Herman Cain Harassment Accuser Received Cash Settlement
As for the second accuser in the Politico piece, "I'm totally unaware as to any charges coming from this other person," he answered. As Politico had shared the names of the accusers with Cain, he could confirm that "I know the name of the perosn that's alleged to be the other one. She had been a long-term employee, but I have no knowledge that she made a formal complaint." He could also recall no interaction with her that would be considered inappropriate.
While the extended interview appeared candid and clarified in a considerable way the allegations thrown against Cain, both the initial report and his campaign's response to it left so many unanswered questions and trails for reporters to follow that it is still unclear how much the allegations will stick and hurt his campaign. But if Cain is telling the truth in these interviews and it is uncovered that the accusations are baseless, whoever fed the story to Politico has a lot more to lose than Cain does at this point– and one could venture to guess that the source of the story would be the political player poised to gain the most from a Cain campaign implosion.
The interview via Fox News below:

Have a tip we should know? tips@mediaite.com