Herman Cain's 'Major Announcement': 'I Am Suspending My Presidential Campaign'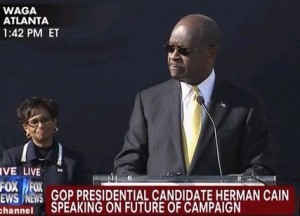 The Atlanta headquarters of Herman Cain for President was set to be opened today, but instead of that bureaucratic announcement, today the campaign announced it would make a "major" declaration about… something. Many speculated the campaign was over. There were rumors that Cain campaign staffers knew their fate was sealed. And now, finally, we know what the fuss was about: Cain is suspending his presidential campaign.
With early reports that Cain had arrived at the opening of his Atlanta headquarters accompanied by his previously elusive wife Gloria, pundits speculated for about an extra half hour after the original 1PM announcement time as to what Cain would say– some asserting that he was still in the race, others suggesting he may suspend the campaign for president but continue to campaign for ideas a la Sarah Palin. After the crowd finished an energetic chant of "Gloria!" in support of Cain's wife, Cain finally put speculation to rest, but not before thanking his supporters for not being "warm weather supporters" and railing against Washington. "They have failed to provide economic growth, failed to get spending out of control failed to make us less dependent on foreign oil," he argued.
He began to give a short biography of himself and of the Cain campaign, noting that it was "out of frustration that I made the decision to run," despite not "fitting the usual description" of a presidential candidate. Thanking supporters again, Cain cracked a 999 joke, and then got serious. "We're in the final four!" he told the audience, a month away from the Iowa caucuses. That said, he turned to the allegations about affairs and sexual harassment. "It distracted my ability to present solutions to the American people," he noted, though admitted he "made many mistakes in life– everybody has."
He then turned to the media:
Because of these false and unproven accusations, it has paid and had a tremendous, painful price on my family. These false and unproved allegations continued to be spinned [sic] in the media and in the court of public opinion so as to create a crowd of doubt over me and this campaign and my family. That spin hurts! It hurts my wife, it hurts my family, it hurts me, and it hurts the American people because you are being denied solutions to our problems.
Telling the audience that he is "at peace" with his wife and his family and his God, he explained that "becoming president was plan A," one he was suspending because of "the continued hurt caused on me and my family, not because we are not fighters."
The "good" news? CainSolutions.com launches today, Cain "will not be silenced," and he will be making an endorsement in the Republican field. He then concluded with a spectacular flourish, quoting once again (and admitting this time) the words from Pokemon he used as closing remarks at a Republican debate long ago.
Video of Herman Cain's announcement below:
Have a tip we should know? tips@mediaite.com