Caught On Hot Mic: Obama Tells Russian President He Needs 'Space,' Will Have 'Flexibility After My Election'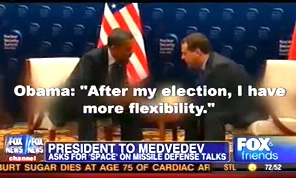 Update: Headline has been modified to better reflect the President's comments.
President Obama was caught on a hot mic telling Russian President Dmitry Medvedev on Monday that if given "space," he'll have more flexibility "after my election" for negotiations on issues like missile defense. "On all these issues, but particularly missile defense, this, this can be solved, but it's important for him to give me space," Obama told the Russian leader.
"Yeah, I understand. I understand your message about space," President Medvedev replied. "Space for you…"
"This is my last election," Obama observed. "After my election I have more flexibility."
"I understand," responded Medvedev. "I will transmit this information to Vladimir."
The White House responded to the leaked correspondence, saying:
This is a political year in which the Russians just had an election, we're about to have a presidential and congressional elections — this is not the kind of year in which we're going to resolve incredibly complicated issue like this. So there's an advantage to pulling back and letting the technical experts work on this as the president has been saying.
On Monday's Fox and Friends, the morning crew spoke with The Five's Dana Perino for her take on this latest development.
"You thought that was intentional?" Brian Kilmeade questioned Perino.
"So Medvedev says, 'I understand you,' the rest of the American people are like, we didn't understand that," Perino observed. "So I have a feeling the White House today is going to have a lot of explaining to do because, first of all, you know the mic is hot, was that intentional or was it just, hey, let me have a private moment with him? Those words got picked up. Last election, this is kind of ironic, wasn't it Putin who was supposed to have the last election before hand? We have terrible relations with Russia. What President Obama just did was signal what maybe should have been said in a private diplomatic moment, but signal in front of the world, he wants a second term for more flexibility and I think the American people have a right to demand 'to do what?'"
Watch Fox and Friends's reaction to Obama's comment to the Russian President:
Have a tip we should know? tips@mediaite.com