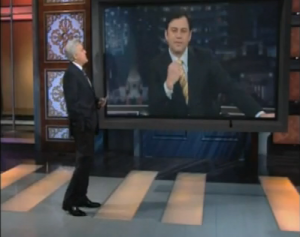 ABC's Jimmy Kimmel — who is slated to join in on the Late Night Wars (not to be confused with the current, ongoing wars on Christmas, Religion, Atheists, Republicans, Saturday, Democrats, Women, Men, The Unborn, The Undead, or Shia LaBeouf) alongside NBC's Jay Leno and CBS' David Letterman — sat down with The Late Shift and The War for Late Night author Bill Carter Monday night, where he was asked both about his admiration for Letterman and his thoughts about Leno.
As it turned out, they were not so much "thoughts" as "rage spikes:"
Carter: How about Jay Leno?

Kimmel: Fuck him.
See?
The discussion turned to the time Kimmel impersonated Leno on his show back in 2010, when The Jay Leno Show was on the verge of being canceled… before Leno made moves to take over Conan O'Brien's job hosting at The Tonight Show.
Leno responded to Kimmel's impersonation by inviting him onto his program for a segment called "10 at 10":
So, in an appearance that was broadcast live and is now infamous, Kimmel seized every opportunity he could during Leno's questioning to bring up the subject of Jay and Conan. For example, Jay asked Kimmel, "What was the best prank you ever pulled?"

And Kimmel answered, "I think the best prank I ever pulled was I told a guy that five years from now I'm going to give you my show, and then when the five years came, I gave it to him and then I took it back almost instantly!"

"It was probably my proudest moment," Kimmel told Carter Monday in New York. Kimmel then noted that comedians he knew were the first to congratulate him for how he'd taken Leno to task.

"People, it turns out, really don't like Jay Leno," Kimmel said. "We have not spoken since that time," he said of Leno.
Here's that segment, for your viewing and/or cringing pleasure:
h/t Xfinity via Warming Glow
Have a tip we should know? tips@mediaite.com