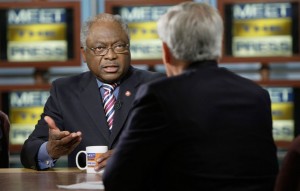 A few weeks ago, Mediaite reported that Meet the Press has pledged to diversify its panels of guests and commentators.  So how are they doing?
Well, the show has gone four weeks in a row where African American men were featured on the show. This week's show will actually go one better: an African American guest and an African American journalist on the roundtable.
On Feb. 28, the show featured National Urban League president Marc Morial and Nancy-Ann DeParle. The next week, March 7, the show featured former Rep. Harold Ford (D-Tenn.).  Ford has a contract with NBC to do commentary and it was his first week back after ending speculation that he was running for the Senate.
This past Sunday featured House Majority Whip James Clyburn (D-S.C.) and on tap for this week are Republican National Committee chairman Michael Steele and Public Broadcasting System's Tavis Smiley.
The month is a good showing for MTP, which has and up-and-down history with diversity on its shows.  While the shows have mixed it up–a little–in terms of race, the show is overwhelmingly male in terms of guests. DeParle, who has Chinese ancestry, was the only Asian-American.  There were no Latinos. Katty Kay of the British Broadcasting System is the only female journalist who has been featured.
MTP's diversity pledge came after NBC's Jeff Zucker was beat up in Congress over diversity issues at the network.  Following the criticism, an NBC spokeswoman declared the network was  "committed to having a more diverse group of voices on the show whose opinions and expertise reflect, not just the news of the day, but the cultural, economical and political landscape of our country."
As for the rest of the Sunday shows, Fox News Sunday continues to outshine the competition largely because of regular panelist Juan Williams from National Public Radio.  On a Sunday when Williams was gone, Fox had no non-white guests of panelists.
For this week, Face the Nation will feature Clyburn.  CNN will have Donna Brazile. ABC This Week–which just announced the addition of Christiane Amanpour as host–will have no non-white guests or analysts.
Have a tip we should know? [email protected]