Is Norah O'Donnell's Defection From NBC The Biggest for the Network in Nearly Two Decades? Quite Possibly…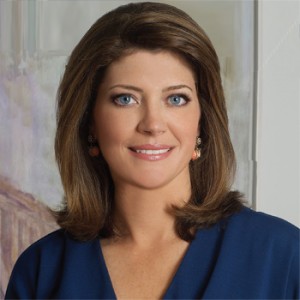 The more I think about it, the more convinced I am that Norah O'Donnell's departure to CBS may be the biggest defection NBC has endured in nearly two decades – since Brian Ross jumped to ABC in 1994…and certainly since Chris Wallace jumped to ABC a few years before that.
I know, I know…"What about Katie Couric? What about Soledad O'Brien? What about Campbell Brown?" The difference between those defections and O'Donnell's is how it impacts NBC long term. There was little to no collateral damage done to NBC when Couric, O'Brien, and Brown left. Today and Weekend Today easily survived and flourished. But O'Donnell's departure creates a long term hole for NBC to address – who will succeed Andrea Mitchell?
There's no shortage of male TV talent "power centers" in D.C. The prototype model was the late Tim Russert, someone who knew D.C inside out and had a Rolodex the size of an appropriations bill.
But number of female TV talent power centers in D.C. is, unfortunately, still woefully small. You probably know the names by heart; Mitchell, Ifill, Amanpour, Sawyer, and (at one time before she became firmly entrenched with 60 Minutes) Stahl. If you're in a generous mood you could add Candy Crowley as well.
For the last 12 years, O'Donnell has been quietly building up a reputation as the next big female TV talent D.C. power center. She came to NBC from Roll Call and made all the stops necessary in the evolution of a journalist from reporter to power center; Capitol Hill, the Pentagon, the White House, the D.C. party circuit. You can't put a price tag on those kind of credentials.
I'm still at a loss as to why NBC didn't see this coming. After losing her daily MSNBC show two years ago, O'Donnell's profile at NBC inexplicably dropped. Was NBC too concerned about the short term and wasn't thinking enough about the long term? Could be. Whatever the reason, it opened the door for CBS to swoop in and make an offer NBC could not match having made commitments to others previously that, for the moment, froze O'Donnell out from taking a higher profile position at the network. NBC let her go because it couldn't keep her. It hadn't taken the time to establish a career path for O'Donnell that would ensure her continued commitment to the network. NBC dropped the ball. It had the next Andrea Mitchell (figuratively) waiting in the wings for the day Mitchell did retire. And it dropped the ball.
With CBS, O'Donnell has the position she should have had by now at NBC. She will flourish in that environment at CBS and now, instead of being on the path to succeed Mitchell, she will now be on the path to one day succeed Stahl.
That's fine for CBS. But what of NBC? Who will succeed Mitchell? You can't just drop in anyone on short notice and expect it to work. It takes years to build up a reputation like that because when you're operating at the level of a Mitchell, Ifill, Amanpopur, Stahl, or Crowley your D.C. reputation is everything. Nobody on NBC's payroll currently fits or comes close to fitting that bill, at least on the female side of NBC's roster. There are ones who might be able to do it but NBC doesn't currently have them on a career path that goes in that direction (succeeding Mitchell). And that's why NBC losing O'Donnell, and her reputation in D.C., is such a big deal. She was the obvious choice.
This post first appeared on Inside Cable News and appears on Mediaite via a content sharing agreement
Have a tip we should know? [email protected]