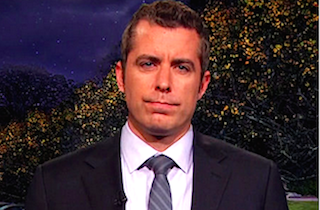 When Jason Jones announced he was leaving The Daily Show to star in a new show for TBS, the project was widely described as a "sitcom." But in an exit interview with The Daily Show podcast, Jones made pains to clarify that that's not exactly the case.
"I have written, produced and starred in a new comedy show," Jones told a group of Daily Show writers and producers. "I'm going to call it a comedy show, because people have asked me, 'Why are you leaving to do a family sitcom?' And I'm not leaving to do a family sitcom, I'm leaving to do a comedy show that stars a family.
The nuance of that point was somewhat lost of head writer Elliott Kalan, who joked, "And it involves situations, a 'sitcom' if you will."
RELATED: Why Doesn't Anyone Want to Replace Jon Stewart?
"No situations," Jones replied. "It's a show about nothing, completely original. Never, ever been done with any success." He described it as a "TV-MA family comedy" that will chronicle a family road trip from Syracuse to Ft. Lauderdale with the entire season taking place over about seven days. "And every season, we take a new vacation," Jones said.
Meanwhile, Jones' wife and fellow correspondent Samantha Bee is also heading from Comedy Central to TBS, where she will host a new show in which she can "apply her smart and satirical point of view to current and relevant issues." So, definitely not a sitcom and perhaps something closer to what Jon Stewart has been doing for the last 16 years.
Listen to the audio below, via The Daily Show:
You can download the full podcast episode on iTunes.
[Photo via screengrab]
— —
>> Follow Matt Wilstein (@TheMattWilstein) on Twitter
Have a tip we should know? tips@mediaite.com