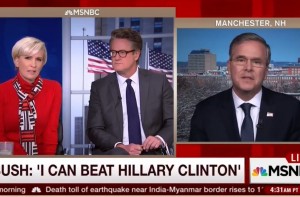 Former Florida Governor and Republican frontrunner in that alternate universe where Spock has a beard Jeb Bush has spent so long being Donald Trump's personal punching bag that it's almost adorable to see him try and fight back, as he did at last month's CNN Republican debate when he told Trump he couldn't "insult his way to the presidency."
While his moment of backbone didn't move Jeb's numbers at all, it did get him a few gulps of oxygen from the media, and he's been rolling out those lines ever since. On Tuesday's Morning Joe, Bush expounded on his theory that Hillary Clinton will "clean" Donald Trump, and threw in a new, not-so-subtle dig at Trump's multiple marriages:
Mika Brzezinski: You say that Trump would get crushed by Hillary Clinton. why do you say that? so far he's crushed everybody.

Jeb Bush: Well that's different. He's captured people's angst and anger for sure. He's a great politician in that regard. But look, he's a buddy of the Clintons. Is he the only person on the stage that's given money to Bill Clinton and Hillary Clinton's campaign, and their foundation? Yeah. I think he's probably the only guy that invited Hillary Clinton to one of his weddings. His views are closer aligned to Hillary Clinton's than that of a conservative. How can he beat Hillary Clinton when we get into the general election? He'll get crushed. You can't insult your way to the presidency. I find it remarkable no other candidate is taking him on. He's a bully.
I've got some sad new for Jeb Bush, though. There was another candidate who had multiple marriages, who was a TV star, who was a former Democrat, who beat the balls off of another candidate named Bush. That guy's name was Ronald Reagan, maybe you've heard of him?
Jeb did manage to make a funny that really cracked up the Morning Joe crew, which means you can look forward to hearing it over and over again:
You got take on the bully head on. That's what I'm doing. Everybody else is in the witness protection program, I've noticed. But look, you got to stand up for a guy that says the things that he says and guarantees a conservative won't be elected president, that's wrong. I've been a conservative all my adult life. That's what I'm fighting for. Making sure the conservative cause is allowed to govern.
It's tempting to feel sorry for Jeb Bush because everything about his candidacy has been so very sad, but the paragraph he wraps around that quip underscores the fact that he is not the "good guy" in this race, if there even is one. He's not saying people should stand up to Trump because he's running a racist campaign, or that his policies are disastrous and immoral and would harm people, he's saying someone should stand up to trump so that Republicans can regain power.
He's still the same guy who thinks "Hurricane Katrina" is a cute nickname, and that the Confederacy "should be respected," and even that there should be a religious test to admit refugees to the United States.  If this is the good guy in the Republican field, maybe they deserve Donald Trump.
Have a tip we should know? tips@mediaite.com