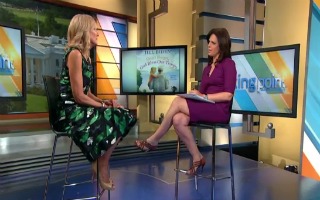 Vice President Joe Biden's wife, Dr. Jill Biden, appeared on CNN with anchor Soledad O'Brien on Thursday to discuss her new children's book. She was asked about her thoughts on the Wisconsin recall election and the Democrat's chances in November. In the interview, Biden said that her husband would make a "great president" but declined to say if he has plans to run in 2016.

RELATED: MSNBC Anchor Blasts Conservative Guest Who Compares Trump To Joe Biden
O'Brien asked Biden for her thoughts on Wisconsin's Republican Gov. Scott Walker's victory on Tuesday night. "There are a lot of people who look at Wisconsin and say, 'that is a metaphor for what could happen in the nation come November, which would be very bad news, in fact if that's true, for the Democrats."
"We were disappointed by the outcome," said Biden. "But, look at what this administration has done. I mean, I think that's what sometimes gets lost. I mean, we have increased jobs. I'm an educator – Barack [Obama] and this administration has done incredible things for higher ed."
She cited Pell Grants and health care reform as measures of the Obama administration's success.
O'Brien asked Biden about her husband's reputation for making gaffes and played a clip of Saturday Night Live to illustrate the point.
"Of course, parody is often rooted in truth," said O'Brien. She asked if there was any animosity in the White House over Biden stepping out in front of the President on the issue of gay marriage.
"Joe and Barack are on the same page on this and they were on the same page. It's just as simple as that," said Biden. She said that having a sense of humor and being able to laugh at yourself is essential to survival in politics.
When O'Brien asked if Joe Biden had any plans to run in 2016, Jill Biden said "I think Joe would be a great president."
"Of course, Barack must have thought he would make a good president too, or else he wouldn't have chosen him as Vice President," said Biden.
Finally, O'Brien asked about a study that showed political polarization is at its highest level in recent years. O'Brien told Biden that she personally feels that level of political anger rising. "Do you feel that people are just angrier and, kind of, everybody's in their own corner or their own side," O'Brien asked.
"The parties are really disparate," said Biden. "The Republican party has gone way far right than it has gone before. It's certainly not the Republican party I grew up with."
O'Brien asked if polarization would affect people's choices at the polls in November, to which Biden said "voters are going to have a clear choice."
Watch the interview below via CNN:
Follow Noah Rothman on Twitter
Have a tip we should know? tips@mediaite.com