Jimmy Kimmel Goes After Obama, Republicans And The Press At W.H. Correspondents Dinner
Kimmel Goes After Obama, GOP And The Press At Corrrespondents Dinner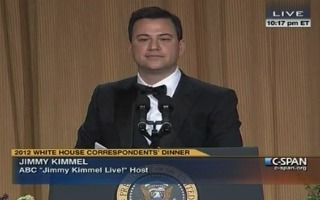 Jimmy Kimmel, host of ABC's Jimmy Kimmel Live, took to the stage to close the night at the White House Correspondents' Dinner. Kimmel took jabs at members of the Obama administration, Congressional Republicans and Democrats, artists and journalists alike during his comedy set.

RELATED: Breitbart.com Dubs Jimmy Kimmel 'Comedy Coward' For Not Knowing How To Mock Obama
Kimmel thanked the President for his appearance tonight, saying "salaam."
"Mr. President, I know you won't be able to laugh at any of my jokes about the Secret Service so cover your ears if that's physically possible," said Kimmel. "If this had happened on President [Bill] Clinton's watch, you can damn well bet those Secret Service agents would have been disciplined with a very serious high five."
Kimmel joked about the General Services Administration's scandal, the President's ability to compromise with the Republican party by conceding to their demands and White House advisor Peter Orszag.
Kimmel also joked about the journey the country has taken with Obama from 2008 to today and how so much has changed. "Mr. President, remember when the country rallied around you in hopes of a better tomorrow," asked Kimmel. "That was hilarious."
"There's a term for President Obama. Probably not two," said Kimmel. "Even some of your fellow Democrats think you're a pushover Mr. President. They would like to see you stick to your guns. And if you don't have any guns, they would like to see you ask [Attorney General] Eric Holder to get some for you. Jake Tapper wrote that."
"They say diplomacy is a matter of carrots and sticks," Kimmel said. "And since Mrs. Obama got to the White House, so is dinner." Kimmel went on a tear about the President's weight loss and how that reflects on the state of the nation. Targeting Michelle Obama, Kimmel said, "look, it's [New Jersey Gov.] Chris Christie. Get him!"
Kimmel took aim at the Occupy Wall Street movement as well, saying "it took moths of hacky sack and patchouli oil but, finally, Wall Street isn't greedy anymore."
Kimmel mocked the recent scandal surrounding Hilary Rosen's comments about Ann Romney, and White House Press Secretary Jay Carney's response that he knew "three" Hilary Rosens. "Three Hilarys," said Kimmel. "That sounds like Bill Clinton's worst nightmare."
"Just to clear things up for the extreme right-wingers, here is the difference between Bill Maher and Rush Limbaugh," said Kimmel. "The people who watch Bill Maher know he's an asshole."
Kimmel took jabs at Chris Matthews, Bill O'Reilly and James Carville – and the Republican party.
Kimmel said he had a theory about the assassination of Abraham Lincoln, after noting O'Reilly wrote a book on the subject last year, saying "I have my own theory about Lincoln's death. I think John Wilkes Booth was innocent. I don't even think it was an assassination. I believe Lincoln had a vision about what the Republican party would become in 150 years and killed himself."
Kimmel said that the President was "candid" in an interview when he called artist Kanye West a "jackass." "No offense sir, but I think you got the wrong West. I think you meant Allen," said Kimmel in reference to Florida Republican Rep. Allen West.
Democrats, too, were the target of Kimmel's jokes. "[Rep.] Nancy Pelosi believes in lipstick like she believes in government," said Kimmel. "Too much is never enough." He said that Jake Tapper wrote that joke as well.
Kimmel took aim at Keith Olbermann, too, saying "the thing about Keith is he is so likeable." Kimmel continued, "Al Gore launched Current TV in 2005 and it took off like a North Korean rocket."
Kimmel concluded with a note of optimism. "This is a land of liberty and justice for all, and it doesn't matter if you're black like President Obama or white like President Obama. Or red like Presidnet OBama's agenda. or orange like Speaker [John] Boehner." Kimmel concluded that it was a honor to perform for the politicians and journalists in Washington.
Watch part 1 of Kimmel's set below via C-SPAN:
Watch part 2 of Kimmel's set below via C-SPAN:
Have a tip we should know? [email protected]