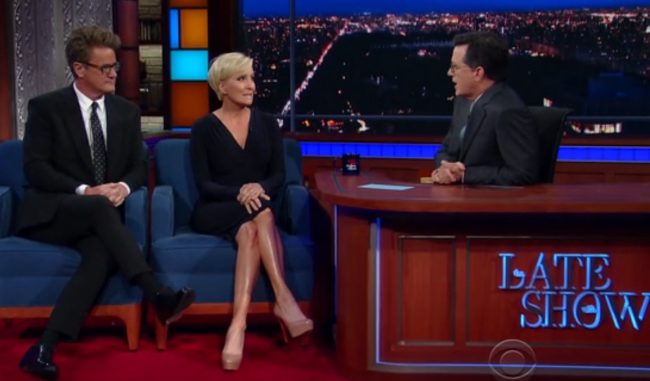 Joe Scarborough confirmed what many of his Republican critics already believed last night, when he officially, and very publicly, announced his withdrawal from the Republican party. The newly self-identified Independent raised the eyebrows of media insiders, however, by choosing to make the announcement not on the network that employs him, MSNBC, but rather on CBS's The Late Show with Stephen Colbert.
People change party affiliations all the time, and critics might think it a bit of grandstanding for Scarborough to make such a public announcement. But the Morning Joe co-host is a respected thought leader who fairly defines himself as something of an iconoclast in today's divided political media world. So it's not at all unusual to present this as a news event. So why did he choose the spotlight provided by a competitive network to let the world know?
Scarborough's political background is a unique one.  The former Republican congressman, and long time host at MSNBC, was raised in the "Redneck Riviera" of Pensacola, Florida, where he eventually practiced law and was elected to the U.S. Congress, representing Florida's 1st district in 1994.
But in 2003 he started his television career in earnest, representing a decidedly conservative point of view hosting Scarborough Country on MSNBC before Morning Joe. His second eponymously named program, became something of a politico-cultural phenomenon in the late aughts. And as his show gained influence over the years, conservative critics (especially competitive hosts on other networks) have painted Scarborough in what they think as a less favorable light. For example, Sean Hannity has taken to calling him "Liberal Joe."
The "conversion" of Scarborough from loyal member of the Republican party to registered independent isn't terribly surprising for someone who is such an outspoken critic of the Trump administration. But the decision to make this announcement not on his own show or network but on a competitive network underlines the fair critique that Scarborough is more interested in seeking the limelight than telling his own story.
Scarborough's transformation from Pensacola congressman to Upper West Side coffee toter engaged to his morning show co-host Mika Brzeznski is something of a fairy tale, but conservatives may see it as predictable as it is cliched. The fact that Morning Joe has in the past been sponsored by Starbucks, and co-hosts have been seen sipping what looks like lattes only makes the criticism sharper.
It is worth noting that news of Scarborough's announcement was broken by Late Show Show Runner Chris Licht, who is the former Executive Producer for Morning Joe and often gets credited for helping put that MSNBC morning show on the map. So perhaps Scarborough's decision to go on CBS was a favor to an old friend. But Colbert is enjoying great ratings in the Trump administration, so perhaps Scarborough just wanted a bigger audience.
But the executive suites at NBC and NBC News are most likely shaking their heads in frustration that the host of their very popular morning show franchise chose a competitor to make news. Some may see it as disrespectful, while others will see it as Scarborough putting his personal promotion ahead of his employers. Grandstanding isn't uncommon for TV hosts — it's often what they  do. But doing it on another networks is likely a bitter pill to swallow for the guys who sign his sizable paycheck.
Colby Hall is the Managing Editor at Mediaite.com and has never announced his political affiliation on any competitive media outlet. Follow him on Twitter at @colbyhall.
This is an opinion piece. The views expressed in this article are those of just the author.