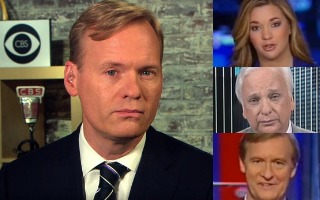 CBS News' political director and Slate magazine columnist John Dickerson stepped on a landmine of conservative outrage this week when he wrote a column advising President Barack Obama, under the guise of analysis, to "go for the throat" when dealing with his Republican adversaries. The piece inspired a not entirely unwarranted backlash from conservatives. However, a reflection on Dickerson's body of work shows that his advice-like tone is more stylistic than subversive. Whether or not conservative outrage directed at Dickerson is warranted, media watchers on the right risk fostering the impression that they are simply paranoid if they continue to press the case against Dickerson over this innocuous post. It would be tragic to undermine the work that conservatives have done in educating the public on media bias with an aggressive prosecution of the case against Dickerson.

RELATED: Fox & Friends Clashes Over CBS Political Director's Response To 'Pulverize' GOP Column
"As Obama explained in his last press conference, he thinks the Republicans are dead set on opposing him. They cannot be unchained by schmoozing," Dickerson wrote in Slate. "Whether he succeeds in passing legislation or not, given his ambitions, his goal should be to delegitimize his opponents. Through a series of clarifying fights over controversial issues, he can force Republicans to either side with their coalition's most extreme elements or cause a rift in the party that will leave it, at least temporarily, in disarray."
Had this column been attributed to a relatively unknown Slate columnist, it may have gone unnoticed. Dickerson's position as CBS News political director, however, justified the flood of conservative outrage that followed.
From Fox News Channel's hosts of Fox & Friends to former CBS News insider Bernard Goldberg, conservatives expressed their dismay over the column and the bias it exposed. "I guess he just wants one party," said Fox News host Steve Doocy, "which would essentially make it a dictatorship." Goldberg warned that CBS News' effort to enhance their reputation for down-the-middle news will be hampered by Dickerson's dual role and CBS management will be forced to respond to the controversy.
Dickerson responded to the controversy by explaining that the offending post was analysis and not advice. Dickerson's response was not satisfactory for many, including Fox and Reason Magazine's Matt Welch.
"Yes, you can always distinguish analysis from advice by the presence of such words as 'must' and 'should,'" Welch wrote. Indeed, it is not easy to differentiate between analysis and advice in Dickerson's column. But this confusion is more attributable to Dickerson's style than it is any form of bias. His political analysis has taken on the tone of counsel since he was TIME Magazine's White House correspondent and later a Slate columnist.
In 2006, Dickerson wrote in Slate that Bush "should swear more." After the political world was set alight when President George W. Bush was caught on an open mic swearing in a conversation with former British Prime Minister Tony Blair, Dickerson applauded the president's straight talk. He advised Bush to get angrier with the state of global affairs – as bloody and chaotic as they were at the time.
In a 2009 editorial, "The Deliberator," Dickerson advised President Obama to listen to the advice of his predecessor regarding the conduct and eventual drawdown of the war in Afghanistan. "As if to prove he meant it, he has already spoken to his predecessor at least once. He may want to do so again as he puzzles through what to do in Afghanistan," Dickerson wrote.
As early as September of last year, Dickerson offered some unsolicited advice to Republican presidential candidate Mitt Romney. "If Romney has a clear vision for righting the ship, then he must smile and ignore the chatter," Dickerson advised.
This is a laudable attribute. Who wants a weathervane as president? When Hillary Clinton was ahead in the polls, Barack Obama resisted calls to panic. It was one of the first signs he might be ready to be president.

On the other hand, if circumstances have changed, Romney should take a gamble, scrap his plan, and adapt. Otherwise he's going to blow his best chance to beat a weak incumbent.
One could probably guess at Dickerson's political leanings. Slate's editorial voice is by no means conservative, and he had the honor of frequently sharing a byline at TIME with Jay Carney — now President Obama's press secretary. But, at least in this instance, his analysis couched as advice was not only accurate but shared by some conservative voices.
"His strategy with fiscal cliff, as is his strategy with the debt ceiling, is to split, fracture, and, therefore, neuter the Republicans in the House, because that is all that stands between him and total dominance of Washington in his second term," Syndicated columnist Charles Krauthammer told Fox News Channel's Bill O'Reilly On January 15.
"It already worked with the fiscal cliff," Krauthammer added.
While it is unlikely that Krauthammer would like to see Obama seek this course of action, as empirical political analysis it is hard to argue with. For conservatives, Krauthammer's analysis was more palatable than when the same tactical reality was observed by Dickerson. Why?
Conservatives, and Republicans to a lesser extent, are wrestling with a siege mentality. It is a common condition that occurs when one party soundly loses a national election. The right feels beset on all sides by enemies, both within and without the walls of the conservative citadel. The Dickerson kerfuffle is evidence of hypersensitivity towards bias in the press.
A little criticism that should be interpreted as advice: conservatives should keep their powder dry when it comes to media bias. There are more egregious and insidious examples of unbalanced news coverage in truly mainstream outlets every day. Excessive outrage over the Dickerson episode is not merited and reduces the impact that shedding a spotlight on genuine bias can have in the future.
> >Follow Noah Rothman (@NoahCRothman) on Twitter
Have a tip we should know? tips@mediaite.com