John Oliver One-Ups Colbert Super PAC by Creating His Own Tax-Exempt Church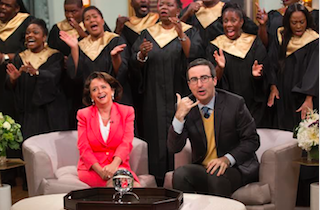 "This is real," John Oliver repeatedly told his Last Week Tonight audience last night after announcing the creation of his new megachurch, "Our Lady of Perpetual Exemption." He even urged viewers to call his toll-free number: 1-800-THIS-IS-LEGAL.
The stunt, which came at the end of a 20-minute dissertation on the disturbing ways in which televangelists extract "seed" money from their faithful followers, is clearly reminiscent of Colbert Super PAC, the 501(c)(4) organization set up Stephen Colbert to test the absurd limits of the Supreme Court's Citizens United decision. This time, Oliver is daring the IRS to deny him the same tax-exemption status granted to actual evangelical churches.
Before making the decision to start his own church, Oliver sent televangelist Robert Tilden a donation and found himself in a bizarre correspondence that left the host $319 poorer with nothing to show for it.
Oliver called the process of setting up his own church "disturbingly easy," using a tax lawyer and the official IRS guidelines to make sure they were following the admittedly "vague" legal parameters. For instance, they needed an "established place of worship." Well, the show already meets every Sunday in New York for its HBO taping.
Joined by his "wife" Wanda Jo Oliver (Rachel Dratch), the host directed viewers to its new website where followers can find out how to make their donations. "If you do this, and this is real, great things will happen to you, and that's apparently something I'm allowed to say!" Oliver declared.
In the fine print on the website's donation page, Oliver reveals his ultimate endgame:
Our Lady of Perpetual Exemption may choose to wind down and dissolve in the near future. Upon dissolution, any assets belonging to the Church at that time will be distributed to Doctors Without Borders, a non-profit charitable organization that is tax-exempt under § 501(c)(3) of the Internal Revenue Code (EIN: 13-3433452) and which provides emergency medical aid in places where it is needed most.
By the time Colbert Super PAC was officially dissolved following the 2012 presidential election had ended, the group had raised nearly $1 million, which was distributed to four different charities: DonorsChoose (Hurricane) Sandy Relief Fund, Team Rubicon, Habitat for Humanity and the Yellow Ribbon Fund.
With an even bigger online reach that Colbert had three years ago, Oliver could likely raise even more, simultaneously helping a real charity and testing the "legal and financial limits of what religious entities are able to do."
Watch video below, via HBO:
[Photo via HBO/Eric Liebowitz]
— —
>> Follow Matt Wilstein (@TheMattWilstein) on Twitter
Have a tip we should know? tips@mediaite.com