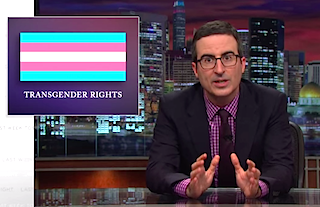 With all of the exhilaration over the advancements in gay rights this weekend, John Oliver used the main segment of his Last Week Tonight show Sunday to pump the breaks a bit and remind his audience that things can still be pretty rough for the "T" part of the LGBT movement. Laverne Cox may have a wax figure in Madame Tussaud's, but the media continues to make "dumb mistakes" like asking people personal questions about their genitalia.
Oliver had a message for those who are confused about how to refer to transgender people. "It's pretty simple, call them whatever they want to be called," he said, pointing out that if we can call David Evans "The Edge" and Sean Combs a whole host of ridiculous names, we can figure out how to use the proper pronouns for everyone else.
After reviewing the various indignities transgender people face, from being kicked out of the military to facing a $2,500 fine for using the "wrong" bathroom, Oliver arrived at the recent comments of Republican presidential candidate Mike Huckabee, who joked about pretending to "feel like a woman" so he could shower with high school girls.
"There is something wrong with you forcing us to listen to your fucked up daydreams about all the sex crimes you would have committed as a teenager had you just been able to find a legal loophole," Oliver fired back at Huckabee. It is that kind of "baseless fear mongering" that the host said inflicts the worst damage on the transgender community.
Watch video below, via HBO:
[Photo via screengrab]
— —
>> Follow Matt Wilstein (@TheMattWilstein) on Twitter
Have a tip we should know? tips@mediaite.com