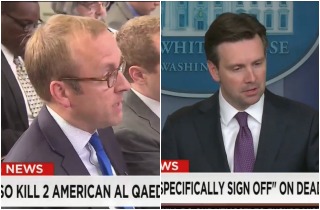 ABC News White House correspondent Jonathan Karl grilled White House Press Secretary Josh Earnest on Thursday over whether the counterterrorism operations that left two American al Qaeda members dead were "justified killings."
The drone strikes, which also resulted in the deaths of an American and Italian hostage, targeted al Qaeda leader Ahmed Farouq and propagandist Adam Gadahn. Both Farouq and Gadahn, though, were American citizens, which has caused civil liberties advocates to question why they were targeted in the first place.
Karl asked Earnest about the Department of Justice's justification for killing an American citizen without due process, which states that the targeted killing of an American citizen is justified only if the person(s) "represent an imminent threat of violent attack against the United States" and a "capture" is not viable. Karl repeatedly pressed Earnest on whether it is legal to kill American citizens that, in his estimation, were not imminent threats.
Earnest said President Barack Obama does not regret that Farouq and Gadahn were killed, given their prominence in al Qaeda, which is "actively planning and plotting against American citizens." He also said Farouq and Gadahn were not specifically targeted, but were just "hit."
Still, Karl pressed him about the DoJ regulations: "But is it legal under the guidelines that this administration has put in place — is it legal to kill American citizens who do not represent an imminent threat of violent attack against the United States?"
Earnest maintained that international law allows the U.S. to carry out counterterrorism operations in areas that are, according to the "near certainty" of intelligence officials, "frequented by al Qaeda leaders."
Watch the full exchange below, via CNN:
[Image via screengrab]
— —
>>Follow Andrew Desiderio (@forza_desiderio) on Twitter
Have a tip we should know? tips@mediaite.com