Jon Stewart & Co. Take On Absurdities Of Spending Cut Fight: 'It's As Stupid As It Sounds'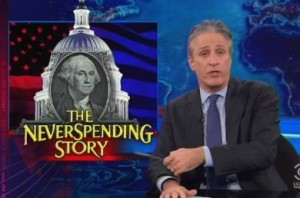 Jon Stewart broke down the upcoming battle in Washington over spending cuts. Stewart broke down exactly how Congress reached the point where it is trying desperately to avoid its own artificially created deadline. Stewart remarked, "it's as stupid as it sounds," and followed with a report by correspondent Al Madrigal about the fight over how many tanks the military needs.
RELATED: WATCH LIVE: Obama Makes Statement Requesting Automatic Spending Cuts Delay
Stewart in particular focused on how potential spending cuts would affect defense. After running a clip of outgoing Defense Secretary Leon Panetta, Stewart came up with a highly convoluted plan about how the military can cut spending and move around some of its operations that turned into a pitch for the board game RISK.
Stewart also highlighted how if the sequester kicks in, Fleet Week will have to be cancelled. And using the slippery slope, Stewart warned that no more Fleet Week means no more Cher concerts, and no more Cher means no more fishnet stockings, and no more fishnet stockings not only hurts the lingerie industry, but it will no longer be fashionable to wear underwear on the outside.
The show then aired Madrigal's report, in which he highlighted how members of Congress are fighting to give the military more tanks even though the military doesn't need them. Make sure to watch the report for choice lines like "to my knowledge, Nevada has never been attacked" and "if you are a Muslim, you better be out there jihading away."
Watch the video below in three parts, courtesy of Comedy Central:
—–
Follow Josh Feldman on Twitter: @feldmaniac
Have a tip we should know? tips@mediaite.com
Josh Feldman - Senior Editor