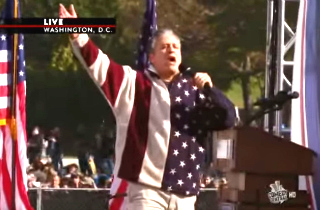 This might come as a surprise to many: Jon Stewart would like to bring back some sort of draft.
During a discussion with New York magazine about his directorial debut Rosewater, Stewart indicated that one of his biggest disappointments of the Obama era has been watching the Democratic Party blow its opportunity to "be more effective." The Daily Show host said that "the VA treatment backlog, the bureaucratic nightmare we put our veterans through, has been devastating to me."
In response, interviewer Chris Smith asked, "Do you think there should be a draft?" The comedian's response:
I do. I absolutely do. I've watched military families suffer in a way that is unconscionable considering the demands that we have placed on them over this ten-year period. When I say there should be a draft, I also think it should be noncompulsory military. There should be a draft where every young person has to do one year of something — military, public works — something so that we all feel invested in the same game, because that's the part that we've lost.
In other words, Stewart's ideal draft would not be the sort of military conscription last seen in 1973, at the dusk of the Vietnam War, but rather a national volunteer service of sorts. Every citizen is required to do some sort of volunteer service, whether it be military or humanitarian.
The idea of national service has been floated by politicians and pundits from both parties, and was part of Sen. John Kerry's 2004 presidential campaign proposals.
No one's been able to reconcile the whole "volunteer" aspect of a "mandatory" service, however.
[h/t Rare]
— —
>> Follow Andrew Kirell (@AndrewKirell) on Twitter
Have a tip we should know? tips@mediaite.com