Joy Behar: Jimmy Fallon's Band Should Have Played 'Don't Know Much About History' For Bachmann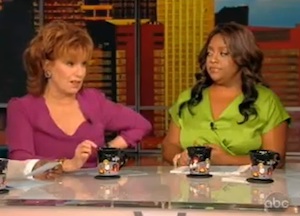 The View's Joy Behar took a swing Monday at Republican presidential candidate Michele Bachmann over her outrage about the song "Lyin' Ass Bitch" which Questlove and The Roots played to introduce the Minnesota Congresswoman on Late Night with Jimmy Fallon. "They should've played 'Don't Know Much About History'!" Behar exclaimed to laughter and cheers from the crowd. "That would've been a better song."
The panelists earlier discussed the hubbub over Questlove's song selection.
Barbara Walters wasn't familiar with the song, asking Whoopi Goldberg if there were any lyrics to it.
"Well, it's familiar to us who know the song," Goldberg noted. "Do you know all the words?" asked Walters. "Do you want me to sing 'em?" joked Goldberg.
RELATED: Whoopi Goldberg On Michele Bachmann: She's Pretty But She's Not Presidential Material
Goldberg added that she thought it was interesting that in response to the kerfuffle over "Lyin' Ass Bitch", radio talk show host Rush Limbaugh jokingly introduced Michelle Obama to Sir Mix-A-Lot's Baby Got Back. "Does this mean then, with all the things Rush has said, that he actually thinks Michelle Obama has a big butt? Is that what he's saying?"
Co-host Sherri Shepherd thought that politics didn't play a role in Questlove's use of the song.
"Michele Bachmann says (the song was played) because she was conservative. I don't think it's necessarily because she's conservative because I don't think she has enough power," she argued. "I think it's disrespectful to her as a woman. If it were Laura Bush or Nancy Reagan, I think heads would have rolled."
"The songs were not appropriate either way," Goldberg concluded.
Watch Behar's joke about Bachmann below via ABC:

Have a tip we should know? tips@mediaite.com