Judge Napolitano: Eric Holder Could Be Held In Contempt For Non-Response On Fast & Furious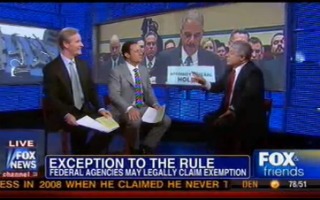 Last week, Attorney General Eric Holder delivered blank documents in response to a media inquiry on the failed "Fast and Furious" gun-running mission. Judge Andrew Napolitano visited Fox & Friends Wednesday morning to offer his take on what this means for Holder.
RELATED: In 1995 Video, Eric Holder Says We Need To 'Really Brainwash People' Against Guns
Napolitano explained that this wasn't necessarily going to get Holder in trouble. "Whenever you make a freedom of information act request," he explained, "the initial response from the government, whether it's the Treasury Department or the Justice Department, never gives you everything. You almost always have to appeal to a federal judge who then looks at the documents in secret and basically says to the government 'cough these up.'"
"What will get him in trouble," Judge Napolitano continued, "is when he fails to comply with a subpoena from the House of Representatives, and that is where there is a very, very serious effort to have a vote by the House of Representatives to ask a federal judge to hold him in contempt. The House can do it alone. His Democratic friends in the senate cannot help him out. And if the House votes to hold him in contempt, they will hire a lawyer to prosecute the Attorney General before a federal judge."
"And ultimately, he could wind up going to jail," said host Steve Doocy. "But I would imagine what Mr. holder and the Department of Justice, Judge, are trying to do are run out the clock at least past the election."
"They probably want to do that," the Judge agreed. "One of the things that will happen before he is actually prosecuted is the court will look at the documents that Congressman Issa and the House of Representatives have subpoenaed."
"Those documents," he added, "may very well be coughed up before election day. The President and the Attorney General probably do not want that to happen." Negotiations with Issa via lawyers, he continued, are a possibility as well.
Have a look at what he had to say, via Fox News:

Have a tip we should know? tips@mediaite.com