Judge Napolitano Interviews Reporter Arrested For Filming Public D.C. City Meeting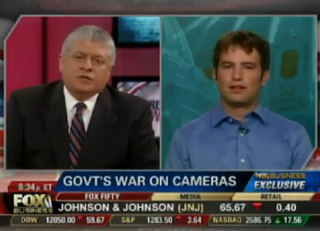 Earlier this week, a shocking report from Reason Magazine revealed how one of its online producers had been arrested for filming the arrest of another reporter filming a public meeting of the D.C. Taxicab commission. That reporter, Jim Epstein, appeared earlier this week on Fox Business's Freedom Watch and told host Judge Andrew Napolitano that, now released, he had still not been given adequate explanation from police as to why he was arrested.
Epstein, who wrote about being released on Thursday but with little detail, could not answer Judge Napolitano's question as to why he was arrested, though did note that he and the second reporter, Peter Tucker, were charged with disorderly conduct and "unlawful entry" (to a public meeting?). He explained that he faced no resistance from police as he filmed Tucker's arrest, but once Tucker was taken away, officers attempted to take the iPhone on which he recorded the scene, threatening to delete the footage. "Luckily, they didn't delete anything," he noted, and "Reason sent a lawyer and I was out by that afternoon."
That said, Epstein confessed that he still "didn't really know, to tell you the truth" why they were both removed from the very public and seemingly innocuous meeting, which Epstein was attending to report on potential legislation involving medallions. "What kind of a government do we have that watches us with cameras everywhere we go, but recoils in horror and uses force when we try to watch the government with cameras?" Judge Napolitano asked. Epstein agreed with the theme of the question and added that a similar problem occurred in the Supreme Court, where cameras are still not allowed.
The segment via Fox Business below:

[h/t Reason]
Have a tip we should know? tips@mediaite.com