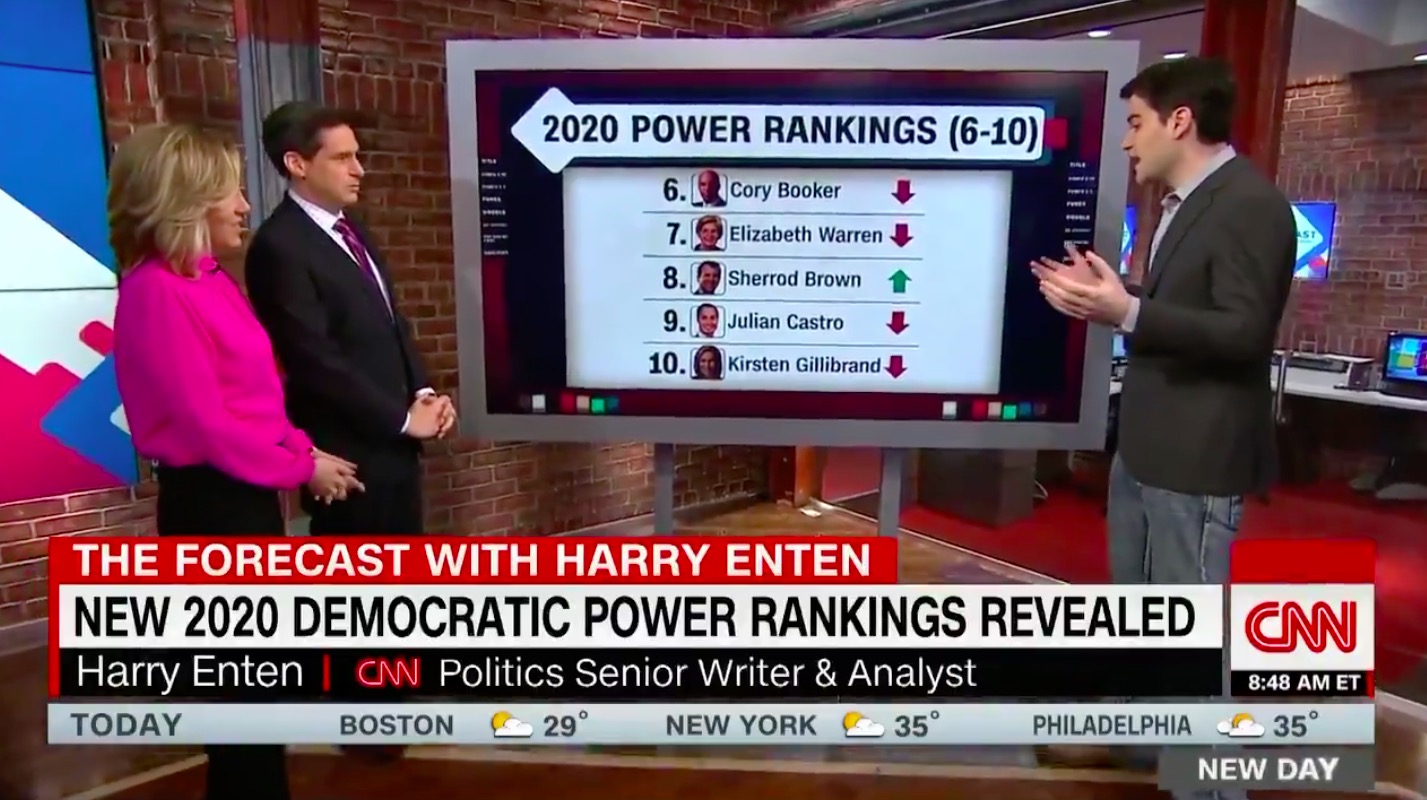 CNN's Chris Cillizza and Harry Enten are out with their latest 2020 power rankings for Democratic presidential candidates, which place Sen. Kamala Harris of California at the front of an already crowded field.
With more than 600 days until the 2020 election, the field is already shaping up with more candidates announcing their campaigns this week (Washington Gov. Jay Inslee) and others ruling it out (Michael Bloomberg).
Two candidates who have yet to announce, but who place prominently on the rankings through the power of sheer hype: Joe Biden and Beto O'Rourke.
Harris places first. "She's moved up in the poll, very good Google trends, activist support," Enten explained. Biden is stable in second place. Sen. Bernie Sanders and O'Rourke came third and fourth, respectively.
Despite bad press, Sen. Amy Klobuchar has seen her poll numbers go up, Enten said, cementing her in the fifth-place slot.
Sen. Cory Booker and Sen. Elizabeth Warren both dropped down to sixth and seventh, while Ohio Senator Sherrod Brown is up to eighth. Julian Castro and Sen. Kirsten Gillibrand round off the ranking in ninth and tenth place.
Watch Enten appear on CNN's New Day to break down the thinking behind their rankings:
The latest 2020 power rankings have been revealed. CNN's Harry Enten explains who in the Democratic field is currently most likely to go up against Trump in 2020 https://t.co/jOHqsJHnC9 pic.twitter.com/y0vYAFOKOw

— CNN Politics (@CNNPolitics) March 7, 2019
Have a tip we should know? [email protected]
Aidan McLaughlin - Editor in Chief