Karl Rove Responds To Tea Party Criticism: We Need Conservatives Who Can Actually Win Races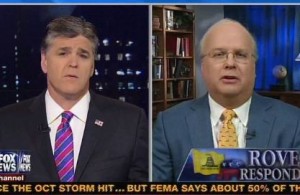 Karl Rove appeared on Sean Hannity's show tonight to defend himself against conservative criticisms of his new PAC intended to help moderate Republicans against tea party challengers in primary races. Radio host Mark Levin went so far as to accuse Rove of stabbing conservatives in the back. Rove made it clear he still wants conservative candidates to back, he just wants ones who can actually win races.
RELATED: Mark Levin Savages Karl Rove's 'Diabolical' Anti-Tea Party PAC: 'We're Being Stabbed In The Back'
Hannity first explained the main goal of Conservative Victory Project: keeping more Todd Akins from becoming nominees for safe seats and ultimately losing general elections. Rove quickly clarified that he is not going to be in the business of defending incumbents, but merely making sure the Republican party nominates candidates who can actually win races. He also defended his previous support of Tea Party candidates in 2010 and 2012.
Hannity brought up the criticism that sometimes the Republican party ends up with establishment Republicans who no one is happy with. Rove insisted he just wants "the most conservative candidate who can win," not just the incumbent candidate. He insisted that his group would have, for example, backed Marco Rubio in 2010. Hannity explained his main concern is that he doesn't want anyone within the Republican party doing anything to divide it.
Rove stuck by his message, saying that the Republican party needs to do better than Todd Akin if it wants to retake the Senate.
Watch the video below, courtesy of Fox News:
—–
Follow Josh Feldman on Twitter: @feldmaniac
Have a tip we should know? tips@mediaite.com
Josh Feldman - Senior Editor