Keith Olbermann Says He's No Longer Speaking To Rachel Maddow; Source Claims He's Making $10 Million At Current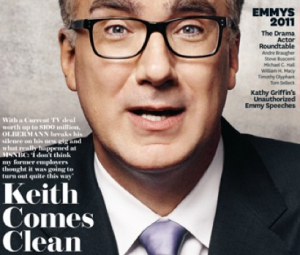 Ex MSNBC host Keith Olbermann has given a revealing interview to The Hollywood Reporter, which includes the amazing tidbit that Olbermann's new job in the cable wilderness of Current TV will pay him ten million dollars a year (with the possibility of banking $100 million over the course of his five year contract)–a staggering figure that dwarfs his MSNBC salary (and THR reports that "Current TV disputes the figure but adds it does not "disclose confidential, contractual details").
Olbermann, who discussed his new show and his departure from MSNBC, said he went on the air January 21 without knowing it was his last show. A team including Olbermann's agents, his manager, MSNBC president Phil Griffin, and an NBC lawyer were negotiating in the building as the show went on, reaching a decision to part ways about thirty minutes into the show. Olbermann says since his exit, he has not spoken to MSNBC star Rachel Maddow:
"There were lots of people who were forced to choose sides. And particularly in Rachel's case, I didn't want to add to the pressure on her already. The last thing I need to do is be calling her up and saying, 'How's that Michael Steele working out for you?' [He signed to NBC as a political analyst on May 23.] Which is exactly what I would do if I were in the office."
In the story, which can be read in its entirety here, Olbermann also confirms he has hired David Shuster as his primary substitute anchor for the Current show.
Have a tip we should know? tips@mediaite.com