Keith Olbermann In Current TV's Cross-Complaint: 'Can You Assassinate Him Please?'
Olbermann In Current TV's Cross-Complaint: 'Can You Assassinate Him Please?'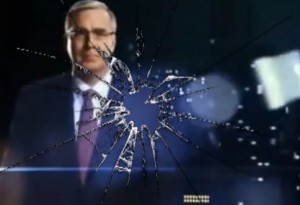 Current TV filed a cross-complaint in response to fired Countdown host Keith Olbermann's lawsuit this afternoon, and among the accusations (many of which have already been reported here and elsewhere) are several more email snippets from Olbermann that buttress his temperamental image, plus the allegation that Olbermann admitted to leaking his salary, despite the fact that Olbermann blamed Current management for that leak in his own lawsuit.
Highlights from the cross-complaint include "a few examples of the behavior which has typified Mr. Olbermann's relationship with Current and its employees":
In response to an email from a Current employee about complications related to Michael Moore's appearance on "Countdown," Mr. Olbermann wrote to Joel Hyatt: "Give me a name so I know which of them to kill with my bare hands."
In response to learning that a photograph of "Countdown's" original set was disclosed to the press by the set designer, Mr. Olbermann wrote to Mr. Hyatt of the person who leaked the picture: "Can you assassinate him please?"
When asked by Current's President David Bohrman about the purchase of a $5,300 desk for "Countdown," which was not discussed with or approved by anyone at the network, Mr. Olbermann replied: "When you are prepared to act like an adult you are welcome to contact us again."
Upon learning that Current would not match a salary offer from another television network to someone in "Countdown's" booking department, Mr. Olbermann wrote to Mr. Bohrman: "We can only conclude here that you have now moved from unjustifiable egotism and unparalleled incompetence, to outright sabotage of this program."
In response to an email seeking consultation with Mr. Olbermann about issues relating to "Countdown's" set: "I am unavailable until further notice."
The complaint also details the glass-throwing incident that we reported last night, plus reveals that there was "extensive email correspondence" between Olbermann and the network on the hiring of Cenk Uygur and former Michigan Gov. Jennifer Granholm.
It's tough to judge the merits of these suits without a law degree and full access to their original contract, but there are a number of things in Olbermann's suit that are either contradictory or demonstrably untrue. For example, his suit alleges that he demanded a March 5 vacation day for medical reasons, but in emails to network president David Bohrman, from Olbermann manager Michael Price and obtained by Mediaite, repeatedly reference the reason for the requested absence as a "personal commitment."
In a later email to Bohrman, Price mentioned Olbermann's "throat issues" only as an ancillary concern:
"With March 6th being such an important date, and with Keith participating in a three hour Program Special that night — something he did not need to agree to, but did for the good of the network — one would assume you would appreciate Keith resting his voice so he can perform for longer than his one hour contractually mandated time. Instead of being stubborn, perhaps you should think about the good of the Network, something Keith is doing by taking a personal day, tending to personal commitments, and resting his voice."
You can read the full text of Current's cross-complaint here:
Have a tip we should know? tips@mediaite.com