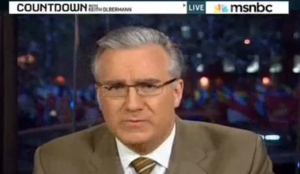 Though Keith Olbermann joked about his four-day suspension from MSNBC in a lighthearted cold open and several times throughout his show tonight ("Just my luck: I get a four-day weekend after the World Series is over," he cracked before one commercial break), it took fifty minutes before he directly addressed the elephant—or should we say donkey?—in the room. When Olbermann finally did open up about his "indefinite" suspension, he talked mostly about how much publicity it had garnered and, unlike in the statement he made last night, generally refrained from criticizing MSNBC president Phil Griffin for taking him off the air.
Olbermann began by citing the support he received from various internet users after his suspension: 300,000 people signed a petition to get him reinstated at MSNBC. He also received 20,000 sympathetic tweets in the 72-hour period following MSNBC's announcement. The outpouring felt like "a universal hug," Olbermann said, before noting that he wished he could read the name of every petition signer on air.
He continued the segment by apologizing to his viewers for "subjecting" them to the drama of his suspension, then clarified that despite some reports, he donated to Rep. Raul Grijalva after Grijalva appeared on Countdown—not before. Olbermann then issued more thanks, to his defenders, to those who stuck up for him despite not agreeing with him politically, and to a few of his colleagues at MSNBC.
Finally—after "getting back to the subject of me" by playing clips of Jay Leno and Jon Stewart joking about the suspension—Olbermann gently criticized the policy that led to his brief sojourn from the air. "It's not a stupid rule," he said of MSNBC's policy against letting journalists donate to political campaigns—despite having called it "probably not legal" earlier in his bit. "It just has to be adapted to the realities of 21st century journalism."
All in all, the segment was heavy on gratitude (and, counter-intuitively, ego) and light on fury, which may have disappointed both Olbermann's fans and his detractors. Video below.
Have a tip we should know? tips@mediaite.com