Key And Peele Bring Back 'Obama' And His 'Anger Translator' To Take On Mitt Romney's Tax Returns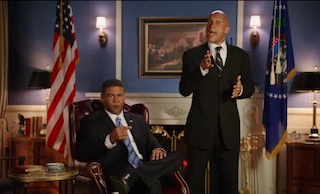 Keegan-Michael Key and Jordan Peele are about to launch the second season of their breakout Comedy Central sketch show Key & Peele, so it's probably a good time to put their most popular characters back in the spotlight. It certainly doesn't hurt that those characters include an impersonation of President Obama and we're only a few months from a presidential election. So, it couldn't be a better time for the show to bring us another look at Peele's Obama and his "anger translator" Luther (Key) as they give their thoughts on Mitt Romney's missing tax returns.
RELATED: Key & Peele Take Shots At Greta Van Susteren During Radio And TV Congressional Correspondents' Dinner
For those that missed the show's first season (as well as the characters' appearance at the Radio And TV Congressional Correspondents' Dinner back in June) the Obama sketches feature the President calmly addressing the nation while Luther angrily shouts out what Obama really wants to say (while occasionally going a tad overboard). It's a similar set up in the teaser released this afternoon over at Entertainment Weekly.
While Obama asks that Romney release his tax statements, Luther furiously points out that the President already had to release everything from a birth certificate to a "receipt for a bong from a head shop in Kauai in 1976."
"But you ask this motherf**ker for his tax returns and he just says, 'Uh, no,'" Luther bellows. "I did not know that was an option!"
Check out the NSFW video from Comedy Central below. The new season of Key & Peele is set to premiere on September 26th.
Have a tip we should know? tips@mediaite.com