Key Moments From Trump's Marathon Summit Presser: From Trashing Trudeau to Dreaming of North Korean Condos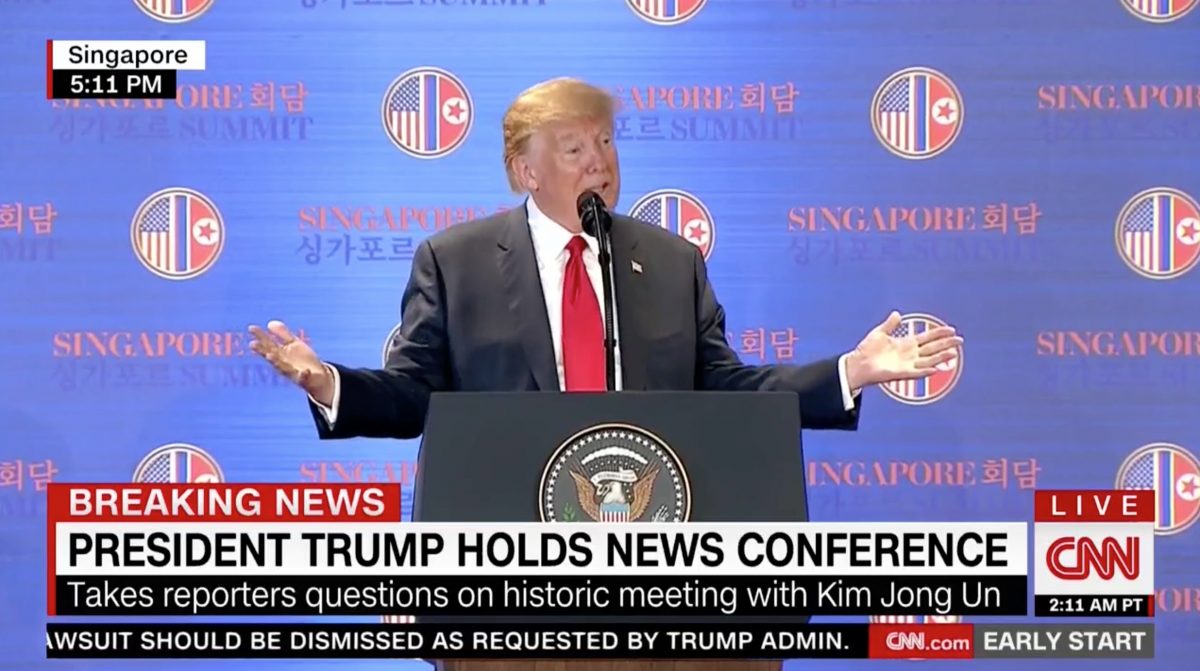 President Donald Trump held a lengthy, wide-ranging press conference following his highly-anticipated summit with Kim Jong Un, and answered questions from reporters about his new agreement with the North Korean dictator, what the future holds for negotiations as well as his G7 blowup.
Crucially: Trump announced the U.S. would be suspending military exercises on the Korean Peninsula in his presser, and that North Korea pledged it would commit to denuclearizing.
Here were the key moments.
Trump airs weird propaganda film that he said the U.S. made for North Korea
President Trump played quite a dramatic video before his press conference ? pic.twitter.com/pKMD72izJ8

— BuzzFeed News (@BuzzFeedNews) June 12, 2018
Twitter was certainly baffled:
Trump just showed the press corps what amounted to a propaganda film that shows North Korea as an equal power to the US with lights turning on in the north and development. Trump said the US produced it for Kim. How much did it cost?

— Brian Bennett (@ByBrianBennett) June 12, 2018
What did I just watch? What's Destiny Pictures? That looked like a Scientology ad

— Yashar Ali ? (@yashar) June 12, 2018
And apparently the press in the room too:
Propaganda film before a press conference by the President of the United States talking about "two leaders, one destiny"… Lots of "what the fuck"s in the White House press filing center.

— Andrew Beatty (@AndrewBeatty) June 12, 2018
Trump speaks on agreement signed with Kim
The presser stretched over an hour long, kicking off with Trump touting his agreement with Kim, claiming the North Korea leader "reaffirmed his unwavering commitment to complete denuclearization of the Korean Peninsula."
Trump doubles down on calling Kim "very talented" after NBC News's Hallie Jackson presses him on his regime's brutality.
"The man you met today Kim Jong Un, as you know, has killed family members, has starved his own people, is responsible for the death of Otto Warmbier— why are you so comfortable calling him very talented?" Jackson asked.
"Well, he is very talented," Trump responded, going on to cite Kim's prowess as a dictator. "Anyone who takes over a situation like he did at 26 years of age and is able to run it and run it tough."
Trump added that "Otto did not die in vain. He had a lot to do with us being here today."
Trump reveals serious concession: An end to "war games"
This is what Washington Post political columnist Josh Rogin described as a "YUGE concession," and what Pyongyang has demanded for years: the halting of military exercises the U.S. conducts annually with South Korea.
Trump referred to the exercises as "war games," describing them as "very provocative" and "inappropriate" given the ongoing diplomacy with the regime.
Trump slams Trudeau, says comments are "going to cost a lot of money to the people of Canada"
A few reporters asked Trump why he had such warm words for Kim, a brutal and murderous dictator, while just days ago he left the G7 summit and trashed Canadian Prime Minister Justin Trudeau.
"I have a good relationship with Justin Trudeau," Trump said after bashing him. "I really did. Other than he had a news conference that he had cause he assumed I was in an airplane and I wasn't watching."
"He learned, that's going to cost a lot of money to the people of Canada," Trump added ominously. He went on to bash German Chancellor Angela Merkel for not paying enough money to NATO.
Trump dreams of condos on North Korea's beaches
Towards the end of the presser, Trump was asked about his weird propaganda video, and mused on the economic opportunity he has seen in North Korea.
"As an example they have great beaches," Trump said. "You see that whenever they're exploding their cannons into the ocean. I said boy look at that view. Wouldn't that make a great condo?"
"You could have the best hotels in the world right there," Trump continued. "Think of it from a real estate perspective. You have South Korea, you have China and they own the land in the middle. How bad is that, right? It's great."
Have a tip we should know? tips@mediaite.com
Aidan McLaughlin - Editor in Chief