Krauthammer Deadpans: Pearl Harbor Does Not 'Do Justice To The Grandness Of Newt'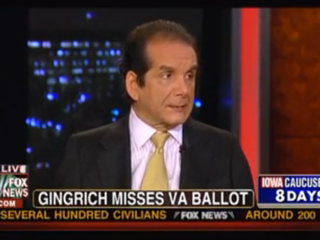 Charles Krauthammer gets plenty of (well-earned) credit on the right for being one of the preeminent political thinkers, but many overlook that, when he wants to, he has better comedic timing than probably anyone in his field. His deadpan was in rare form tonight as he discussed the case of Newt Gingrich comparing his logistical incompetence to Pearl Harbor, when he suggested that it was an offense to the grandiosity of Newt Gingrich to compare a failure in his campaign to a historical event that didn't even involve Newt Gingrich.
RELATED: Million Dollar Historian Newt Gingrich Compares Virginia Ballot Failure To Pearl Harbor
"I'm not sure the analogy really does justice to the grandness and immensity of Newt," Krauthammer replied to a question on his analogy, without indicating that he was joking, at all. He then went on to outline his own analogy– a John Lithgow-worthy Newtism if there ever was one:
"I think the better analogy is 1066, the Battle of Hastings. And I think King Harold is dead, and William the Conqueror has landed and Newt is going to pick up the crown of the last king of the Saxons and lead a trusty band of Saxons– fueled with money from Freddie Mac– and will retake Britain from William and change the course of European history. I think that analogy captures the cosmic importance of the Newt campaign."
It's no King Leonidas and the 300 Spartans, but it'll do.
Krauthammer then got serious for a second, noting that "it's hard to make a parody of Newt and the way he imagines himself" (Krauthammer made it look easy), but that he was happy that Gingrich was around and that he "injects a little humor in the campaign," intentional or otherwise.
The comment via Fox News below:

Have a tip we should know? tips@mediaite.com