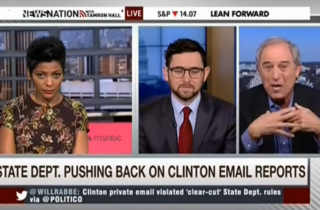 Long-time Clinton family supporter and counsel Lanny Davis became angry with Tamron Hall on Friday when the MSNBC host suggested he is "deflecting" possible blame away from former Secretary of State Hillary Clinton for her ongoing personal email controversy.
Clinton has been under enormous scrutiny this week after it was revealed that she had used a private email server for correspondence during her tenure in the Obama administration. It remains unclear as to whether she broke federal law in doing so, but questions have arisen about whether she placed government security in jeopardy and/or was actively attempting to thwart transparency.
When MSNBC political reporter Alex Seitz-Wald suggested the above, Davis went on the defensive for her: "The fact is she did nothing wrong. Hillary Clinton did nothing wrong. Hillary Clinton did nothing wrong as long as they're preserved and there's nothing to hide."
Thus far, Clinton herself has only addressed the controversy with a tweet indicating that she has requested the State Department make her emails publicly available. Aside from that, wondered anchor Tamron Hall to Davis, "why haven't we heard, in your opinion, from Secretary Clinton?"
That set off Davis, who then snarked at his host and co-panelist:
I think Secretary Clinton, unfortunately, has a brain educated by a law degree, as I do, and what we are trained to do — unlike Alex, who just went through, he is a great reporter, a couple of minutes of all of the things we don't know — not one of them a fact — but he's right, we don't know whether there are Martians on the moon.
And then it got more severe when Hall suggested Davis was engaged in deflective behavior by questioning the veracity of Seitz-Wald's reporting. "Do you mind if I respond to what I think was a jab at me?" Davis asked, forcing the host to clarify that she was not "jabbing," but rather wondering why he would not answer the questions — especially one about former Florida Gov. Jeb Bush deciding to release his official correspondence conducted over a personal email server.
Of course, Davis denied ever criticizing Seitz-Wald and suggested there's a "double standard" in how the media cover Clinton's personal email use versus Bush's or former Secretary of State Colin Powell's. And when Hall noted that Powell did not conduct his over a private server, Davis went off on her: "Excuse me! Governor Bush did. When you make these distinctions, you're in argument, not doing facts. You want to argue with me, that's your right as a host of a program."
Watch the video below, via MSNBC:
— —
>> Follow Andrew Kirell (@AndrewKirell) on Twitter
Have a tip we should know? tips@mediaite.com