Boston Reverend Arrested for Allegedly Shooting His Teenage Student Point-Blank in Head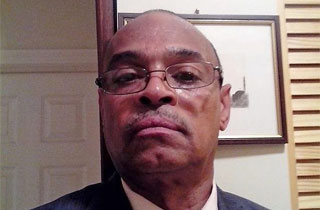 A Boston reverend and former high school dean has been accused of shooting a 17-year-old boy in the head, "execution-style," over a drug deal gone bad.
Shaun O. Harrison, the former Dean of Academy at Boston English High School, pleaded not guilty today in court and was released on $250,000 bail. Boston English quickly fired the longtime teacher after the allegations came out.
According to the Boston Globe, Harrison may have looked the part of a Reverend, but was secretly running a drug ring using students he mentored, and allegedly had a mural of the Latin Kings in his home. Even his priest's collar hid numerous gang tattoos, which is not a metaphor, but something Harrison apparently did.
And while Harrison was helping the student in question with his English homework, he also had him peddle weed in Roxbury:
After arranging a meeting with the unidentified student by text message, Bradley said, Harrison met him at a gas station.

"He had told the victim that they were going to a house to get marijuana and meet up with some girls for the victim," Bradley said.

Surveillance video that prosecutors allege captured the shooting shows a man on a cellphone raise his hand toward the head of a person walking in front of him then fleeing.
Shockingly, the student survived the shooting, and was coherent enough to tell the police that he sold marijuana for Harrison, the leader of a drug ring, and that the two had gotten into a "dispute".
In the most ironic twist we've seen in some time, Harrison's job at Boston English included running ran an anger management and substance abuse program, as well as instituting a gun buyback program, "an anticrime initiative that encouraged youths to give their illegal guns directly to him, no questions asked." Well, now we know where the gun probably came from!
[h/t Gawker]
[Image via Facebook]
—
>> Follow Tina Nguyen (@Tina_Nguyen) on Twitter
Have a tip we should know? tips@mediaite.com