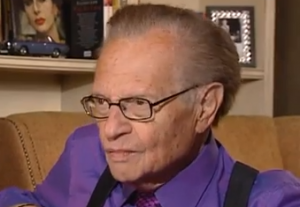 This week the Kremlin-backed network RT has been in the news thanks to Abby Martin, who dissented on-air with Russian actions in Crimea, and Liz Wahl, who resigned very publicly this week and denounced RT as pushing Russian propaganda. But there is one very famous individual with ties to RT who hadn't yet spoken out: Larry King. Yes, the legendary broadcaster has two shows, Larry King Now and Politicking with Larry King, that air on RT, and yesterday BuzzFeed's Dorsey Shaw wondered when King would speak out. Well, the former CNN icon has finally addressed the issue in a new interview with The Daily Beast, and King says he has no problem with RT as long as none of his interviews are edited.
Technically speaking, King does not work for RT. The two shows are broadcast for Ora TV and are licensed to RT America. And King indicates he's not going to terminate that relationship, as long as they don't try to edit out any comments critical of Vladimir Putin or Russian action.
"If they took something out, I would never do it," he insisted. "It would be bad if they tried to edit out things. I wouldn't put up with it…As long as they don't, as long as they're carrying stuff critical of them, I've got no problem with it." Attempting to distance himself, he added: "You may not like what Russia's doing now, but I'm really a party removed."
King says "to my knowledge," RT has never edited any interviews he's done. Before King joined up with RT in 2013, he gave an interview with the network two years prior, less than a year after he left CNN, in which he admitted he was "very impressed" with RT's news coverage.
In that interview, King talked a lot about what impressed him when he interviewed Putin.
"I had an affinity with him. You try to get that with a lot of guests… Vladimir Putin, if he were American, would be a successful American politician. He has a quality––this has nothing to do with politics––they change a room. They have a certain magnetism, and he has 'it,' whatever 'it' is. He has 'it,' and you really like that in a guest."
You can watch that video below, via RT:
[h/t Daily Intelligencer]
[photo via screengrab]
— —
Follow Josh Feldman on Twitter: @feldmaniac
Have a tip we should know? tips@mediaite.com
Josh Feldman - Senior Editor