Leaked Memo Shows Steve Harvey Provided Clinton Every Question Before Interview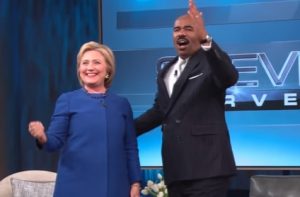 According to a leaked memo obtained by The Washington Free Beacon, talk show host Steve Harvey provided the Hillary Clinton campaign with the questions he was going to ask before she appeared on his show in February.
"Steve is known to be a host who goes out of his way to make his guests feel comfortable," the memo from staffers Karen Finney and Betsaida Alcantara notes. It goes on to give a minute-by-minute breakdown of what will happen during the interview, which questions will be asked, what order they'll be asked in, and how she should respond.
Clinton evidently needed to be informed in advance that Harvey would ask whether she prefers deep dish pizza or thin crust ("Steve may even follow-up with 'Hot sauce or no hot sauce?'" the staffers warned). Other hardball questions Clinton was warned about included "How does being a mom and now grandmother effect how you shape your policy?" and "Your campaign's obviously off to a great start. How are things different this time around for you?"
Harvey would also ask Clinton about her faith, the memo said. The Clinton staffers reminded her in a note that she was a Christian and a Methodist, and provided her with her previous remarks on the subject.
The Free Beacon notes that during the interview, Clinton feigned surprise when faced with the elements she was told about in advance. "Oh boy. Oh my goodness," she said when Harvey showed her a picture of when she was 12-years-old, an exact copy of which appeared in her memo.
Steve Harvey would go on to endorse Hillary Clinton a week later.
[Image via screengrab]
—
>>Follow Alex Griswold (@HashtagGriswold) on Twitter
Have a tip we should know? tips@mediaite.com