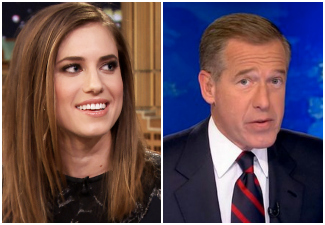 Just leave her alone.
Those were the first words that entered my mind upon seeing all the stories around Allison Williams — daughter of suspended and likely former NBC Nightly News anchor Brian Williams — being hounded by the press to talk about the plight of her father.
Now… is Allison a public figure and therefore fair game? Yes on the public figure part — courtesy of her co-starring role (when the ubiquitous Lena Dunham actually relinquishes the screen for a few seconds, anyway) on the wretched-but-popular-with-the-press Girls on HBO; No on the fair game part when it comes to matters regarding her family and particularly her dad.
Think about it for a moment: Ms. Williams is 26 years old, thereby barely making her a teenager when her father told the first of many fibs (in 2003 Iraq) around his fictional/exaggerated experiences in war zones. Even during his coverage of Katrina that allegedly featured dysentery, roving gangs in 5-star hotels and floating bodies in relatively dry parts of New Orleans two years later in 2005, Allison had just received her driver's license. Note: All she knew at that time was her father was a major news anchor and had to travel to cover big stories occasionally. And when he recounted an experience that had more than a few invalid truths in interviews after the fact, she probably accepted them as fact just as we all did.
So when all of this broke, you can bet it was embarrassing to Ms. Williams, who seems to have a very close relationship with her father. And when you hear questions like, "Do you think he lied to her, too?" — you just want to throw your hands up at the ridiculousness of it all. It's obvious Allison Williams has turned out just fine given her success and ability to stay out of the kind of trouble many in young Hollywood find themselves in. And her father telling tall tales because he wants to be the real-life version of The Most Interesting Man in the World because of ego or a senseless need to be even more accepted by his peers and audience has absolutely zero to do with his ability to be a good dad.
Of course, it didn't help matters when Ms. Williams' publicist warned the press not to ask questions–which only makes the beast more hungry–with this mass email to major publications around New York:
"Please note that Allison Williams will only be answering questions pertaining to Michael Kors, fashion and Girls," adding, "We request that no questions about her personal life be asked."
Of course, this request that was later dropped after it was quickly realized this thing wasn't going to go away until Allison Williams addressed it, which she did later that day:
"It's been tough…Obviously, toughest on my dad, who bears the full burden of responsibility for it," she told Seth Myers during said Michael Kors event, adding, "One thing the experience has not done is shake my trust and belief in him as a man," she said. "He's a really good man. He's an honest man. He's a truthful man. He has so much integrity. He cares so much about journalism."
Now, the usual suspects will mock that statement. But she still is his little girl and he's her hero. That's the way it works between dads and daughters…even when that daughter is a grown woman. Yes, she's got a successful career originally fueled by nepotism, which unfortunately is partly the way it works in entertainment and media. But she's made the most of it, earning the celebrity she now has as her very own. Nepotism may help one get a job, but it does nothing when it comes to actually keeping it.
Allison Williams publicly addressed the Brian Williams situation Wednesday night. She's standing by her father. Good for her.
Now leave her alone.
— —
>> Follow Joe Concha on Twitter @JoeConchaTV
Have a tip we should know? tips@mediaite.com