Leno Confirms His Return To Tonight Show: "I Have Chosen To Stay on the Titanic"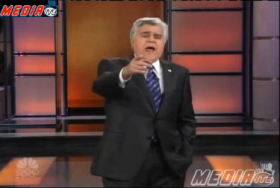 I feel like I must begin this post with a disclaimer: I've never been a Jay Leno hater, or a Conan O'Brien nut. Always liked and enjoyed Conan, often chuckled at Jay despite the uncompromising edict from the cool kids that he was terrible and lame and hackey. So if it seems from my various writings that I'm biased in this fight, please understand — it has nothing to do with how funny I think Jay Leno is. It's that he's been so damn disingenuous.
It's not my word, it's from WaPo's Tom Shales — but damned if it isn't perfect. Shales used that word to describe Leno's statement the other night, in which Leno retold the events of the past four years, with his own spin. For example, this is how Leno described agreeing to take back the Tonight Show:
"They come back to me and they say if [Conan] decides to walk and doesn't want to do it, do you want the show back? 'Yeah, I'll take the show back. If that's what he wants to do. This way, we keep our people working, fine.'"
As we all know, Jay Leno could have gone anywhere after his NBC deal was done in 2009. The anywhere he chose to go was NBC. It has subsequently been revealed that Leno's contract would have been even more expensive to break than Conan's. So if NBC wanted to cancel Leno's 10 p.m. show, they had to have offered Leno something else that he wanted.
Only one person was pushed out of NBC, and that was Conan. Leno had ample opportunity to speak out, make a stand, make a choice. Not doing anything, so he ended up back in that chair, was a choice. Of all the people in this scenario, Jay Leno was the one with the most options.
So that's why tonight's brief update about the changing (back) of the guard at NBC was so…disingenuous.
"Folks – NBC and Conan O'Brien made an announcement earlier today. As many of you know, Conan is leaving the network, his final show airs tomorrow night…I have chosen to stay on the Titanic. I don't believe the iceberg is that big. This ship will never sink!

Apparently we will be back on the Tonight Show March 1st after the Olympics. So that's where we are."
I repeat: This is the decision Jay Leno made, about the option he wanted. For him to present even for a moment that was obliging anyone else or got a raw deal is ridiculous — and, disingenuous.
But here's something that wasn't disingenuous: He didn't say anything nice about Conan O'Brien.
Video below.


Oh also, some news: Leno is reported have just been booked to headline the White House Correspondents Dinner. Very smart counter-programming, that.
Have a tip we should know? tips@mediaite.com