Lynne Cheney Still Thinks the Clintons Were Behind Lewinsky's Vanity Fair Piece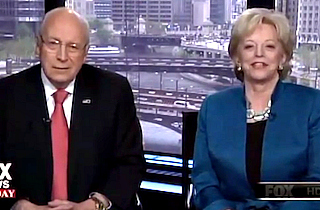 On Fox News Sunday, former vice presidential couple Dick and Lynne Cheney sat down for their first joint interview since leaving office, with Dick Cheney criticizing President Barack Obama's foreign policy in the middle east and Ukraine, and Lynne Cheney sticking by her theory that the Clintons were somehow involved in the recent Monica Lewinsky Vanity Fair piece.

"I was really paying the Clintons a large compliment," Lynne Cheney said of her theory that the Clintons had machinated the Lewinsky piece to get it out of the way ahead of Hillary Clinton's presumed 2016 presidential run. "I was saying how clever they are politically. It seemed to me, if you had something that might come up during the campaign that would be damaging, it would be very smart to get it out of the way early. That's my case and I'm staying with it."
RELATED: Fox Invents New Lewinsky/Clinton 'Questions' to Report On
Her husband continued his line that Obama's foreign policy has demonstrated weakness and emboldened America's adversaries.
"[Obama's] demonstrated repeatedly that he in fact can be pushed around, if you will, by the Putins," Cheney said, oddly pluralizing the Russian president.
Host Chris Wallace asked how Putin was emboldened by Obama since he did exercised the same aggression in Georgia under Cheney's watch.
"What we did at the time was a more robust response," Cheney said, before recounting a recent trip to the Middle East. "To a man, everybody I talked out there to is very concerned with U.S. policy. They hold up the Syrian situation as a classic example that the U.S. can't be trusted. …I think it's also the kind of thing that leads Putin and others to believe this is the time for adventurism on their part."
Watch the clip below, via Fox News:
[Image via screengrab]
——
>> Follow Evan McMurry (@evanmcmurry) on Twitter
Have a tip we should know? [email protected]