Maddow Rips Conservative Think Tank For Immigration Study Co-Author Who Claimed Latinos Have Lower IQs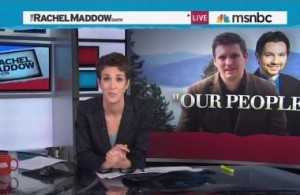 Rachel Maddow opened her show tonight showing how the fringe elements of anti-immigration conservatism are seeping into the mainstream by taking on the Heritage Foundation immigration study that was slightly undermined by the revelation that one of its co-authors, Jason Richwine, previously wrote a dissertation concluding that Latinos have lower IQs than white people. Maddow also highlighted how Richwine has penned pieces on a site run by the head of a white nationalist think tank, and wondered why such a mainstream think tank would want to prop up a guy like that to helm its immigration reform opposition.
RELATED: Marco Rubio Blasts Conservative Immigration Study: 'The Folks Described In That Report Are My Family'
Maddow introduced viewers to the National Policy Institute, a think tank started by Richard Spencer with the express purpose of promoting the interests of white people. Spencer also runs a website that's featured pieces mocking Holocaust Remembrance Day (and even questioning the Holocaust itself) and warning the GOP against being a party of "piñatas [and] burritos."
Meanwhile, mainstream conservative groups are lining up in strong opposition to the immigration reform bill currently working its way through Congress. In particular, the Heritage Foundation released a study claiming immigration reform would be a financial black hole for the United States. Richwine co-authored the study, but after his dissertation on low Hispanic IQs was made public, Heritage had to quickly distance themselves from him, while still maintaining the credibility of the report. Maddow showed it's been hard for Heritage to walk that tightrope.
But the newest information out reveals that Richwine wrote posts for Spencer's website, and claimed in one of them that Hispanics have a much higher crime rate than white people. Maddow said factoring this in makes it clear the Heritage study's conclusion is that immigrants are "low-achieving parasites," and found it very telling that people like Richwine are "leading the Republican charge against immigration reform."
Watch the video below, courtesy of MSNBC:
—–
Follow Josh Feldman on Twitter: @feldmaniac
Have a tip we should know? tips@mediaite.com
Josh Feldman - Senior Editor