McCain Introduces Legislation To Permit 'A La Carte' Cable Packages, End Sports Broadcasting Blackouts
McCain Introduces Bill To Permit 'A La Carte' Cable Packages, End Sports Broadcasting Blackouts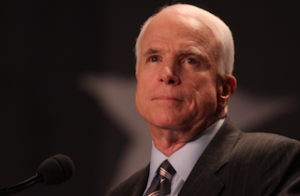 When you get cable TV, you have to buy channels in packages, instead of picking and choosing which channels to keep or drop. Senator John McCain aims to give consumers more choice in the matter with a new bill, the Television Consumer Freedom Act of 2013, proposed on the Senate floor today to allow "a la carte" cable packages, as well as disciplining broadcasters that move popular programming from the networks over to pay cable, and ending the practice of sports blackouts.
McCain railed against broadcasters for basically giving consumers a choice of either purchasing a package of channels even if you don't want a lot of them, or just not getting cable at all. He argued that consumers should not have to unfairly pay up for channels like ESPN, which costs over four dollars a month per household, if they do not want to watch ESPN. He said that anyone who has ESPN and ESPN2 in their cable package and doesn't watch them is just "sending a check to Disney for about $70."
McCain also wants to prevent broadcasters from pushing popular programming to pay TV, when they should basically be available for network TV too. The bill would also stop the sports blackout rule, which is the practice of teams not allowing games to be broadcast if seats are not sold out. Deadspin highlights that these blackouts only began in the 60s after aggressive lobbying by the NFL commissioner at the time.
McCain's bill is naturally going to be opposed by TV industry lobbyists, and David Lieberman at Deadline considers it dead on arrival.
You can watch the entirety of McCain's floor remarks here.
h/t Business Insider
Have a tip we should know? tips@mediaite.com
Josh Feldman - Senior Editor